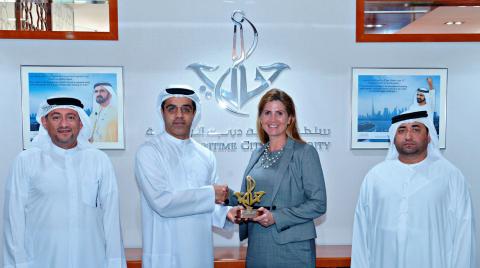 After two years of achievements in enhancing competitiveness of maritime sector in partnership with government & private sectors
 Dubai Maritime City Authority completes initial stage of Maritime Advisory Council
Council preparing for further enhancement in competitiveness of Dubai maritime sector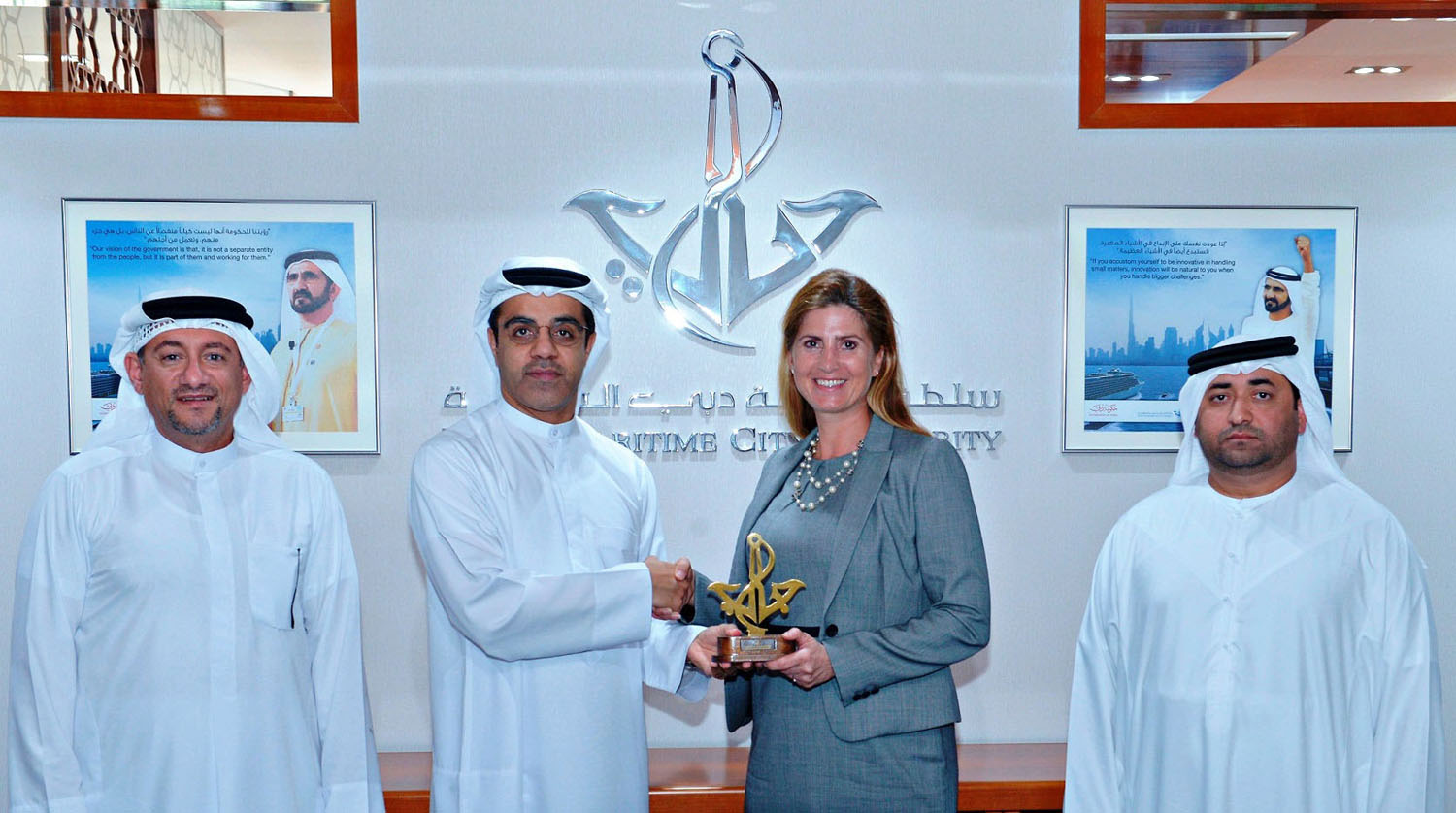 Amer Ali, Executive Director of the Dubai Maritime City Authority praising the work and the outstanding achievements of Jasmine Fichte of the Maritime Advisory Council in its concluded initial stage
The Dubai Maritime City Authority (DMCA) has completed the first term of the Maritime Advisory Council which formed the initial stage for the development of an integrated framework for activating the partnership between the government and private sectors. The partnership involves areas that affect the competitiveness, attractiveness and comprehensiveness of the maritime sector as Dubai evolves into one of the world's best maritime capitals. The two-year initial phase of hard work and close coordination among maritime stakeholders has led to the creation of new features of the Maritime Advisory Council which is emerging as one of the most important strategic initiatives under the umbrella of the Dubai Maritime Sector Strategy.
Amer Ali, Executive Director of DMCA, commended the positive results of the first term of the Maritime Advisory Council. He thanked the efforts exerted by Jasmine Fichte, who assumed the Presidency of the Council during its recently concluded first term. He emphasized that the first term provided an important platform for establishing solid foundations, an integrated structure and a clear mechanism for the Council which will be valuable in supporting the goal of the Maritime Sector Strategy to create a sustainable, secure and highly competitive maritime sector.
Ali further pointed out the importance of the new structure of the Council which will be unveiled soon. The structure will mainly focus on regeneration and recreation by using innovative ideas to promote competitive advantages for the maritime cluster.
The second term of the Maritime Advisory Council will pursue integration, competitiveness and cooperation among maritime pioneers from the private and government sectors to support Dubai's promotion on the global maritime map. The upcoming term is of strategic importance as a continuation of the first term which witnessed significant achievements in terms of supporting the ambitious vision and initiatives under DMCA's umbrella for promoting the maritime sector and strengthening its role as a major contributor to a sustainable economic model driven by innovation, productivity and competitiveness.
The two years of the initial phase witnessed the formation of the first term of the Maritime Advisory Council which includes members from DP World, Drydocks World, Emirates Classification Society ("TASNEEF"), DIFC Courts, Clarcksons, Tufton Oceanic, Gulf Energy Maritime (GEM), United Arab Shipping Company (UASC), Maersk Line, Emarat Maritime, Fichte and Co, Partner Ince & Co, Global Marketing Systems (GMS), and Dubai Trading Agency (DTA). Also forming part of the initial membership are senior executives from Clyde & Co., Emirates National Oil Company (ENOC), Topaz Energy and Marine Engineering, Tamimi & Company, National Association of Freight and Logistics (NAFAL), UAE National Ship Suppliers Association (UNSSA), Hadef & Partners, Mubarak Marine, Baker & McKenzie Habib Al Mulla, Holman Fenwick Wilan (HFW), Wilhelmsen Ships Services, DHL Express, Rais Hassan Saadi company and Aramex – 3PL.
Categories