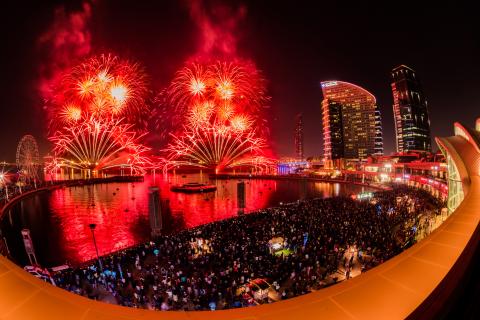 Shoppers at Dubai Festival City Mall are in for a treat over the Eid break as they will witness specially curated Eid fireworks in tune with the colourful fountains, lights and lasers of IMAGINE. The Eid fireworks shows will be on display along with the record-breaking visual and sensory extravaganza, the IMAGINE show.
Visitors can enjoy the Eid exclusive show at Festival Bay on Sunday, 11th August and Monday, 12th August at 8:00pm and 10:00pm. In addition to the two Eid shows running on those days, visitors can watch the IMAGINE shows after sunset, every 30 minutes.
Commenting on the Eid fireworks, Steven Cleaver, Director of Shopping Centres at Al-Futtaim said: "We are constantly looking for ways to create exceptional experiences for our shoppers. The Eid fireworks display we have curated this year have been especially choreographed with the lasers, music, fountains and projection of the record-breaking IMAGINE show – creating a show never been seen before."
Dubai is one of the most popular destinations for GCC residents, particularly during Eid seasons. With a wide array of family friendly activities and events taking place across the city, there is so much for residents and visitors to do. One thing to ensure to have on your bucket list this Eid is visiting Dubai Festival City Mall. The fireworks spectacular that kicked off at Dubai Festival City last Eid Al Fitr saw over half a million visitors from all around the world, whom were all there to witness the first-of-its-kind Eid show and the whimsical IMAGINE show.
Dubai Festival City Mall's iconic waterfront dining area offers families a scenic view of the bay and the remarkable IMAGINE and Eid shows. With 15 waterfront restaurant options available on Festival Bay, visitors can choose from variety of cuisines including Italian, Seafood, Emirati, American, Lebanese, Indian and Turkish.
Guests can also enjoy entertainment from Hard Rock Cafe that is famous globally for its mouthwatering menu, legendary burgers and live entertainment. On 11th August at 8:30PM, Leanna Kerry, renowned for her incredible vocal ability and stage presence, will sing popular music from various genres including jazz, pop, rock and classical in her personalized unique style.  Meanwhile, on 12th August, vocalist Carrie G. from Vancouver, Canada, will take center stage at 8:30PM and entertain guests with her Jazz & blues, Contemporary soul and reggae tunes. The multi-award winning Scottish and Canadian Rock band, The Boxtones Trio will be also playing all-time favorite contemporary hits on 13th August at 8:30PM.
While shopping, visitors will spot the colorful roaming entertainment and their children can take part in the exciting in-mall activities taking place during the first three days of Eid.
In preparation for the season of gifting, Dubai Festival City Mall is also launching new artistic packaging for its Festival City Eid Gift Card, with beautiful Arabic calligraphy and packed with over 100 exclusive offers. The Festival City Gift Card is the perfect "Eidyah" gift for loved ones this Eid Al Adha.
Whether by car, metro or boat, Dubai Festival City Mall is easily accessible this Eid weekend. Shoppers can also visit Dubai Festival City Mall using the RTA Abra and Dubai Ferry from Al Jaddaf Marine Station. Shoppers are advised to come in early and enjoy shopping and dining before the shows.
The Dubai Festival City Mall Eid Al Adha schedule of events includes:
| | | |
| --- | --- | --- |
| Activity | Details | Date & Time |
| Eid Al Adha Display | Fireworks Display IMAGINE Show – A Pirates Tale  Fountain, lights and lasers display | Sunday, 11th August at 8:00pm and 10:00pm |
| Eid Al Adha Display | Fireworks Display IMAGINE Show – A Child's Dream Fountain, lights and lasers display | Monday, 12th August at 8:00pm and 10:00pm |
Categories