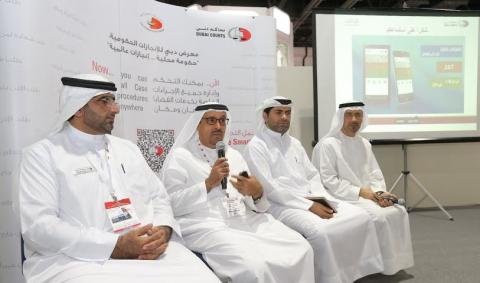 Dubai Courts has launched a bundle of 80 'smart services' that will pave the way for a new era of excellence in providing integrated legal and judiciary services to achieve customer satisfaction and community welfare. This was announced today (Tuesday, March 31, 2015) in a press conference held on the sidelines of the three-day Dubai Government Achievements Exhibition, which is taking place under the theme 'Local Government and Global Achievements.' Dubai Courts' newly introduced smart services have been attracting visitors and exhibitors in the exhibition, with other government entities commending the services as a major leap in the Dubai Government's transformation into the world's smartest city.  The government's efforts are in line with the vision of H.H. Sheikh Mohammed bin Rashid Al Maktoum, UAE Vice President and Prime Minister and Ruler of Dubai.
H.E. Expert/ Tarish Eid Al Mansouri, Director General, Dubai Courts, said the new bundle is an addition to its first smart application that comprises a collection of 30 services. As part of its move to further enhance its current portfolio, Dubai Courts will offer about 110 of the targeted 210 smart services by the end of this year.  He said the Courts has come a long way in its smart transformation initiatives, driven by its strategic objective of making all judicial and legal services smart within the next few months. The move is in support of Dubai Plan 2021 which aims to establish a proactive and creative smart government that meets the needs of a technology-focused future.
 Al Mansouri added: "Dubai Courts is primarily focusing on improving the quality, efficiency and reliability of legal and judicial services in the emirate as part of its vision to attain global leadership and become a model of legal and judicial works to catapult the UAE into the ranks of the world's most developed nations. The first bundle of smart services has increased the Happiness Index of the Courts' customers to 69 per cent this year. We are optimistic that the newly launched second bundle of smart services will have an even greater impact on our efforts to achieve a 100 per cent Happiness Index for our customers, employees and communities."
 During the third edition of the Dubai Government Achievements Exhibition, the Dubai Courts' smart application that won the 'Smart Government Shield' award attracted strong interest from decision makers and senior government officials. The exhibition organized by the Dubai Government Excellence Program focuses on the Dubai Government's major achievements in the economic front as well as in the fields of security, innovation, smart transformation and sustainability, among others. The event is being held in conjunction with the fifth edition of the Annual Investment Meeting, a leading regional event that focuses on enhancing foreign direct investment opportunities and finding effective means to attract investors to the UAE and the rest of the Gulf region.
Categories