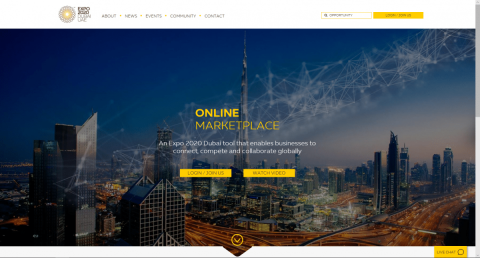 Companies from around the world can unlock
business opportunities
, forge international partnerships and drive growth by registering on Expo 2020 Dubai's new global Online Marketplace (OMP).
The free-to-use platform forms part of Expo 2020's commitment to create a long-lasting economic impact by supporting companies of all sizes, especially small and medium-sized enterprises (SMEs), in line with its theme, '
Connecting Minds
,
Creating the Future
'. The OMP enables users to showcase their products, services and expertise to Expo 2020 and its participants, licensees and contractors, as well as other registered businesses.
It also allows firms to promote their supply chains in both new and established markets by posting tender opportunities, which are visible to vendors and suppliers worldwide.
 Richard McGuire, Vice President – Procurement, Expo 2020 Dubai
, said: "The next World Expo is not only an opportunity to showcase innovations and new ideas, but is also an opportunity to benefit economies across our region and beyond by facilitating new connections between businesses of all sizes. "From the very beginning, we wanted Expo 2020 to act as a catalyst for connectivity and growth, offering the business community greater access to opportunities from around the world. Through the OMP, we aim to encourage innovation and drive global economic progress by helping companies to connect, collaborate and expand their operations, while creating one of the largest networks of this kind in the Middle East, Africa and South Asia (MEASA) region." More than 200 participants including nations, corporations, non-government organisations and educational institutions are expected to take part in Expo 2020. With 25 million visits projected between October 2020 and April 2021, and 70 per cent of visitors expected to come from outside the UAE, the next World Expo represents a major commercial opportunity for businesses of all sizes.
Expo 2020 has so far awarded 4,500 contracts, m
ore than half of which have been won by SMEs.
Expo has committed to allocating 20 per cent of its direct and indirect spend to SMEs, and the OMP will contribute to this goal.
 Richard McGuire said: "At Expo 2020, we understand that SMEs are the backbone of any economy, which is why we have introduced a number of initiatives and platforms designed to increase their reach and visibility. By facilitating cross-border trade and SME internationalisation, the OMP will help further strengthen the UAE's position as a global hub for commerce."
 More than 25,000 suppliers from 149 countries are already registered to do business with Expo 2020 Dubai. The OMP offers an opportunity to connect with companies from the World Expo's wider business ecosystem.
Based on Expo 2020's core procurement principles of simplicity, transparency and inclusivity, the OMP is designed to offer a seamless and efficient experience for every category of user.
In addition to building opportunities and connections, the portal will help create an online community in which thought leaders, business owners and organisations from around the world can share knowledge, ideas, expertise and insights.
To register on the Expo 2020 Dubai Online Marketplace, or to learn more about this innovative platform, visit
omp.expo2020dubai.com
.
Categories