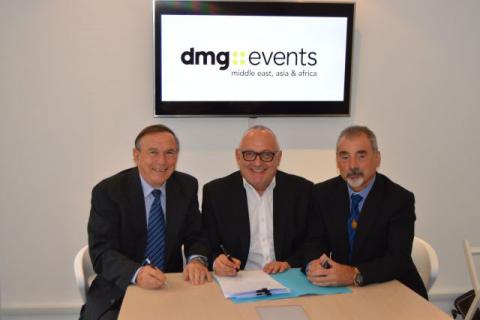 dmg events continues strategic expansion into African markets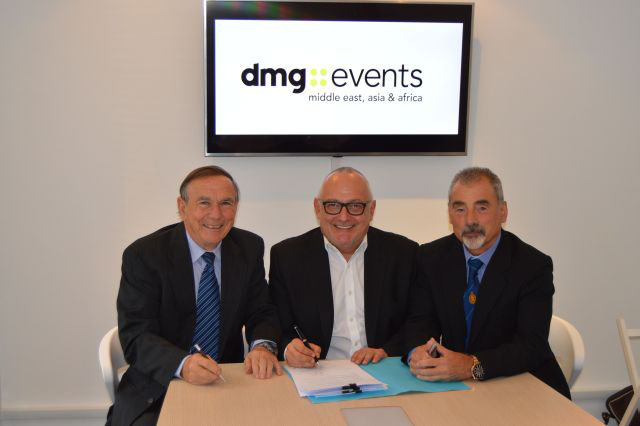 from left to right : Terry Ashmore, Chairman of SAPMA, Ian Faux, Vice President – Coatings - dmg events and Danny Grady, Vice President of OCCA.
dmg events - Middle East, Asia & Africa, a leading international exhibitions company, has acquired Coatings for Africa, the largest and longest-running event for its industry on the continent.
Coatings for Africa will now be organised by dmg events, starting with the next edition in Johannesburg in June 2018. The new acquisition will sit within the company's growing Coatings portfolio, which includes the Middle East Coatings Show taking place in Dubai on March 13-15.
The biennial Coatings for Africa event will retain the South African Paint Manufacturers Association (SAPMA) and the Oil and Colour Chemists Association (OCCA) as partners, with both associations pledging their long-term support. SAMPA members make more than 90 percent of all coatings manufactured in South Africa, while many of the individual chemists and technologists who visit the event are OCCA members. As Africa represents 28 percent of the world's coating production by volume, and South Africa is the continent's largest producer, there is no better place for the region's suppliers of raw materials and equipment to meet their market.
"Africa is one of the most exciting and rapidly developing continents on earth," said Ian Faux, Vice President – Coatings. "As well as supporting the local markets, we are confident that our international client base, familiar with our events in Asia and the Middle East, will be keen to move with us into this new territory and take advantage of the fabulous opportunities available here."
The event will see senior managers and technologists from across the paints and coatings industry come looking for a mix of the latest products, technologies and services. At the same time, they will be able to take part in a developing education programme, which will include a three-day conference, plus interactive zones for workshops and live product demonstrations.
Deryck Spence, speaking on behalf of SAPMA and OCCA stated "Both of our associations are extremely excited about our partnership with dmg events. It is a perfect marriage in that we share the vision of uplifting Coatings for Africa as the flagship shows on the African continent and in doing so expand the expertise of the Coatings industry in South Africa, which we represent."
Coatings for Africa joins a coatings-specific portfolio of events that already includes Dubai's Middle East Coatings Show, the Asia Coatings Congress, the East African Coatings Congress, the Central Asia Coatings Show, the Asia Pacific Coatings Show and Cairo's Middle East Coatings Show. The established event also joins an expanding portfolio of exhibitions being created for the African market by dmg events' recently opened South African operation, set up in July of 2016.
"The acquisition of Coatings for Africa is the latest in a series of strategic moves by dmg events as we expand our business into key markets on the continent," said Matt Denton, President of dmg events. "We have already successfully launched The Big 5 East Africa and INDEX North Africa, while a third geo-cloned event - The Big 5 Construct North Africa - will debut in April 2017."
About dmg events
An international exhibition and publishing company, dmg events produces market-leading exhibitions and conferences for the global energy, construction, coatings, hospitality and interior design industries.
dmg events is a wholly-owned subsidiary of the Daily Mail and General Trust plc (DMGT) an international portfolio of information, media and events businesses listed on the London stock exchange. 
dmg events Middle East, Asia & Africa
Founded in 1989, dmg events has operated in the Middle East since 1995 and owns many leading brands including The Big 5 portfolio of construction events, INDEX – the Middle East's largest event for the interior design industry and The Hotel Show, the longest running and most important event for the hospitality industry.
Headquartered in Dubai, UAE and with satellite offices in India, South Africa and the UK, dmg events Middle East, Asia & Africa organizes over 45 events across the Middle East, Africa, Asia, North America and Europe. For more information visit www.dmgeventsme.com
About DMGT
DMGT manages a diverse, multinational portfolio of companies, with total revenues of almost £2bn, that provide businesses and consumers with compelling information, analysis, insight, events, news and entertainment.  DMGT is also a founding investor and the largest shareholder of Euromoney Institutional Investor PLC and ZPG Plc.
 For more information visit www.dmgt.com
Categories