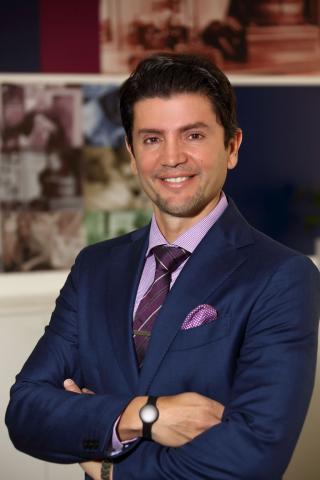 Tarek Saadi Head of Ericsson GCC and Pakistan: Advanced markets within region Middle East such as the GCC markets are now gearing up to prepare for 5G where IoT will be an essential part of our daily life
Connected cars have been available for a number of years, but mainly as new cars in the premium segment. Now, Swedish telecom operator Telia announced that it aims to connect cars up to 15 years old with a cloud-based solution. This exemplifies the opportunity for an operator to expand from data connectivity to offering smart data to an ecosystem of partners – creating innovative service offerings for car owners.
Telia's ambition is to transform into a new generation telco, where applications and customer solutions have an important complementary role to traditional network services. Their connected car offering, Telia Sense, is central to this solution. According to Telia's research, simplifying ownership is a main concern for car owners, and connectivity can deliver on this requirement. However, the value of owning a connected car goes beyond connectivity, as it can be linked to an ecosystem of services relevant to car ownership.
A survey revealed that enhancing the car ownership experience is the main reason cited for owning a connected car, with cost reduction, increased control and safety, and greater convenience also cited as major factors. Car owners interact with their car in many different ways, which presents opportunities to offer a variety of services at different points in time.
Consumers also want more value from their cars. Another survey of car owners indicated that interest can be divided into three areas: connectivity, car control and offerings from service partners.
Ecosystem partners can reach drivers and passengers with new services and information, building on customer relationships and increasing their brand value. This is exemplified in the Telia Sense case with the objectives of initial partners, such as Bilprovningen, Bilia and Viking.
Folksam, a customer-owned mutual insurance company in Sweden, considers digital transformation to be an important focus area for the company going forward. A usage-based insurance offering is one example of how digitalization can enable new opportunities.
Folksam has created an offering called "Köra Säkert" (Safe Driving) to incentivize customers to drive more safely. This offering is based on a pay-how-you-drive concept, where the customer can influence their car insurance premium.
When signing up for the service, the customer receives a small LED indicator that can be mounted on the car's dashboard to inform the driver if they are speeding. A red, yellow or green light provides feedback to the driver on whether they are sticking to the speed limit or not. This indicator communicates with the telematics unit, and an app provides feedback that can encourage safer and more environmentally-friendly driving.
The long-term goal is to save lives and reduce the number of traffic accidents; the incentive could also result in a discount of up to 20 percent on drivers' insurance premiums.
Another possibility enabled by digitalization is proactive servicing. Auto inspection company, Bilprovningen, is aiming to enhance the customer relationship through providing proactive services, such as reminders of inspection times, as well as alerts relevant to car owners.
Automotive service company, Bilia, also aims to provide service offerings like car diagnostics and proactive car maintenance, as well as tailored customer offerings and promotions.
Road assistance company, Viking, sees opportunities for a deeper and proactive customer relationship with improved service offerings enabled by digitalization.
"Internet of Things (IoT) presents new opportunities for mobile operators to leverage their core assets and move up the value chain, through providing intelligent platforms, facilitating ecosystem collaboration and becoming a transformation partner to other industries. Advanced markets within region Middle East such as the GCC markets are now gearing up to prepare for 5G where IoT will be an essential part of our daily life," said Tarek Saadi, Head of Ericsson GCC and Pakistan.
Categories