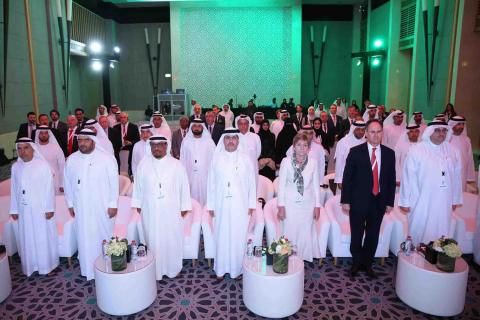 Dubai Electricity and Water Authority (DEWA) is organising the Sustainability Leadership Conference in cooperation with the University of Cambridge Institute for Sustainability Leadership, at the Address hotel, Dubai, on 15—16 March 2017. This is part of DEWA's efforts to promote sustainability in cooperation with international organisations and institutions, and promote all the economic, social, and environmental aspects of sustainable development.
HE Saeed Mohammed Al Tayer, MD & CEO of DEWA, inaugurated the conference. HE Lt Gen Dhahi Khalfan Tamim, Deputy Chairman of Police and Public Security in Dubai, HE Philip Parham, British Ambassador to the UAE, HE Abdulla Al Shaibani, Secretary General of the Executive Council of Dubai, HE Abdul Rahman Al Saleh, Director General of Dubai's Department of Finance, HE Saif Humaid Al Falasi, CEO of Emirates National Oil Company (ENOC), HE Abdulla bin Kalban, MD & CEO of Emirates Global Aluminium, Dame Polly Courtice DBE LVO, Director of the University of Cambridge Institute for Sustainability Leadership, HE Khalifa bin Dray, Executive Director of Dubai Corporation for Ambulance Services, HE Mohamed Jameel Al Ramahi, CEO of Masdar, Dr Eesa Bastaki, President of the University of Dubai, DEWA's Executive Vice Presidents and Vice Presidents, and senior officials from the government and private sectors also took part.
The Sustainability Leadership Conference promotes innovation in sustainable business practices. It features panel discussions and interactive workshops. International experts in corporate sustainability, Director Generals, CEOs from the public and private sectors, and specialists are participating in the conference.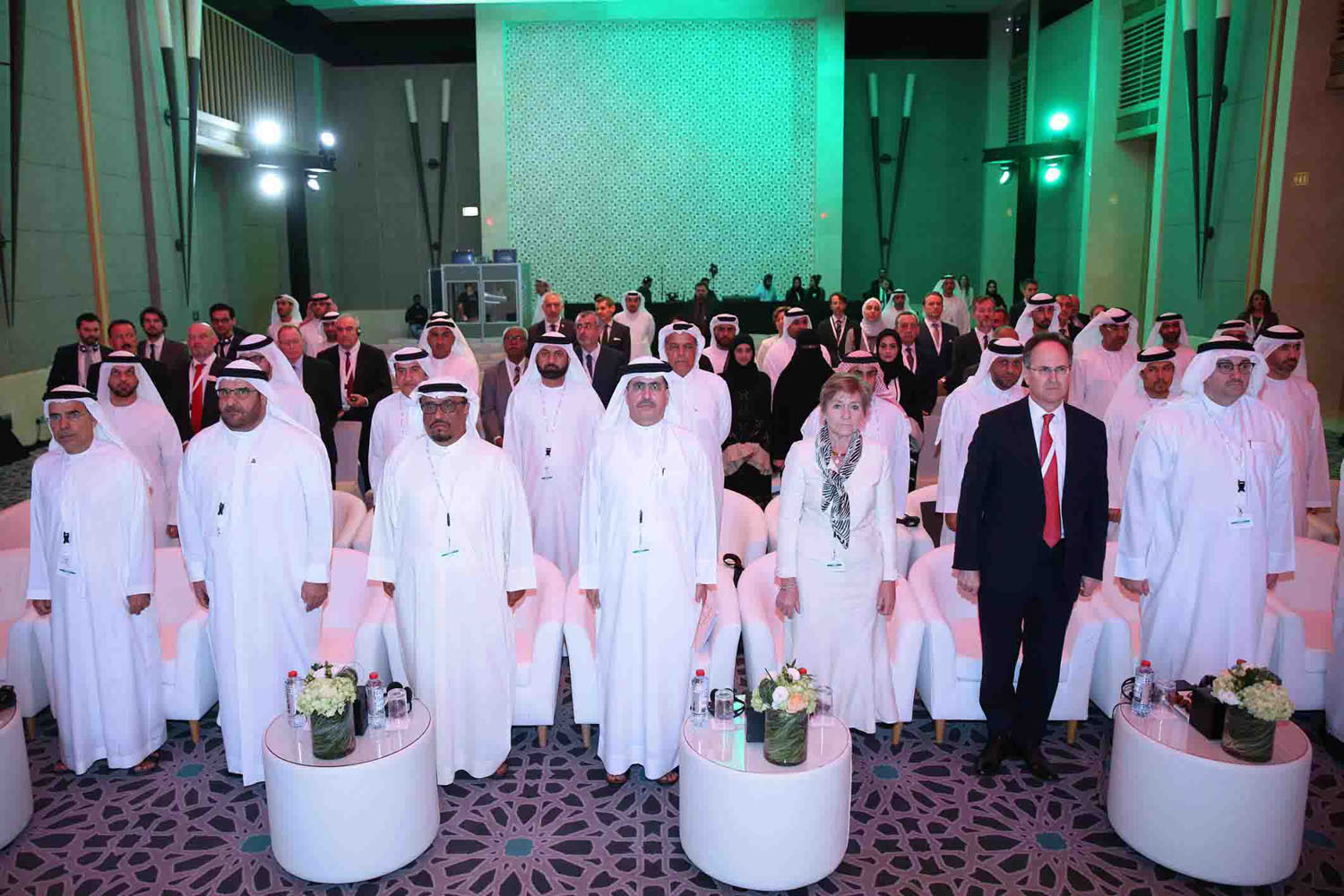 This conference reflects the combined efforts of DEWA and the University of Cambridge Institute for Sustainability Leadership to promote sustainability. At the conference, Al Tayer and Courtice co-signed a Memorandum of Understanding (MoU) between DEWA and the University of Cambridge Institute for Sustainability Leadership, to facilitate the exchange of experience, knowledge and expertise, to achieve mutual goals in sustainability by developing a framework to explore opportunities for cooperation, and achieve their strategic objectives.
In his opening speech, Al Tayer thanked the officials of the University of Cambridge Institute for Sustainability Leadership for their fruitful cooperation with DEWA, and their continued efforts to develop global leadership models and consolidate sustainability as an institutional and social culture.
"Working to achieve its vision to become a sustainable innovative world-class utility, DEWA has remained steadfast in its commitment to adopt sustainability as a main priority for its strategic direction, plans and initiatives, to support the long-term Green Economy for Sustainable Development initiative, launched by His Highness Sheikh Mohammed bin Rashid Al Maktoum, Vice President and Prime Minister of the UAE and Ruler of Dubai, to develop a green economy in the UAE, and the Dubai Clean Energy Strategy 2050 launched by His Highness to transform Dubai into a global hub for clean energy and green economy. This will eventually provide 7% of Dubai's total power output from clean energy by 2020, 25% by 2030 and 75% by 2050. Our sustainability objectives support the objectives of the Dubai Plan 2021, to make Dubai a city that is fully-sustainable with its resources and supported by environmental elements that are clean, healthy, sustainable, and support the UAE Vision 2021," said Al Tayer.
"This Sustainability Leadership Conference is a result of our close cooperation with the University of Cambridge Institute for Sustainability Leadership: promoting sustainability concepts and spreading its principles and fundamentals amongst senior management, leaders and specialists in sustainability. The joint work we have done focuses on facilitating the exchange of experiences and best practices adopted by top international companies and institutions to instil sustainability, in line with our efforts to make sustainability a daily practice that contributes to economic, social and environmental development, both locally and globally. Sustainability and innovation are urgently needed by institutions and companies in order to survive, especially to deal with the challenges that face the world to meet the growing demand for power, the scarcity of natural resources, and the effects of climate change," added Al Tayer.
"In this regard, DEWA is the first government organisation to adopt sustainability in its vision and strategic plan to achieve set long-term sustainability goals. In 2013, DEWA established a sustainability leadership team, which operates under the umbrella of our Sustainability and Climate Change department and is composed of pioneers from all departments of DEWA, working continuously on disseminating and implementing sustainability concepts, and highlighting their positive effects for DEWA. The team promoted sustainability awareness to all its employees across DEWA in 2016, which contributed to increasing the sustainability culture indicator among its staff to 88.6%."
"As part of its efforts to further drive the sustainability process in Dubai, DEWA has launched major initiatives and projects in renewable energy, sustainability and environment. One of the most notable projects is the Mohammed bin Rashid Al Maktoum Solar Park, which affirms DEWA's commitment to sustainable development and the importance of renewable energy in maintaining a balance between development and the preservation of a clean, healthy and safe environment. The solar park is the largest single-site solar park in the world, based on the Independent Power Producer (IPP) model, with a planned capacity of 1,000 MW by 2020 and 5,000 MW by 2030, at a total investment of AED 50 billion. The solar park will eventually save approximately 6.5 million tonnes per year in carbon emissions," added Al Tayer.
"DEWA has also launched several strategic projects and leading smart initiatives that are based on innovation, research, development and capacity-building to drive the green economy, including the development of an integrated programme for smart networks, the Green Charger initiative to create the infrastructure to charge electric vehicles, and the Shams Dubai initiative, which regulates the solar power in buildings and their connection to DEWA's grid. For the first time in the Middle East and North Africa, Dubai will host two cycles of the Solar Decathlon Middle East, the first will be organised in 2018, and the second in 2020 in conjunction with Expo 2020 Dubai. DEWA has signed a MoU with Expo 2020 Dubai to be its official Sustainable Energy Partner," continued Al Tayer.
"DEWA is working on strengthening Dubai's position as a global hub and a model for energy efficiency, and renewable energy projects and strategies for institutional sustainability, innovation and attracting investments in renewable energy, especially solar power. DEWA also contributes to the Demand Side Management strategy to reduce consumption by 30% by 2030 through 9 ambitious programmes. DEWA has made many international achievements in sustainability, but we are still at the beginning, because our goal is to be number one worldwide, and this can't be achieved without leading partnerships, concerted global efforts, and keeping pace with developments in sustainability, which has become a global issue. DEWA has had a pioneering role in providing an international platform to support these efforts, namely the launch of the Dubai-based World Green Economy Organisation by His Highness Sheikh Mohammed bin Rashid Al Maktoum in October 2016, with the support of Dubai Government and in partnership with the United Nations Development Programme (UNDP)," said Al Tayer.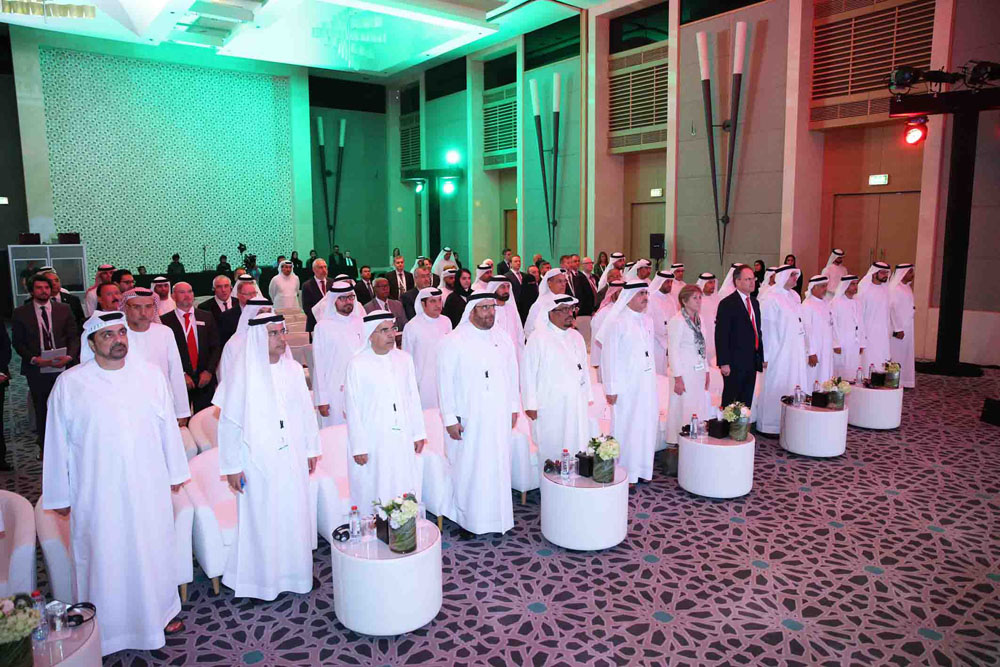 "We are committed to supporting the joint actions to achieve the objectives of the 2030 Agenda for Sustainable Development, which was adopted by the United Nations (UN) in 2015 as a global plan for prosperity, people and the planet, for clean energy, innovation and climate change. DEWA will be focusing its efforts in the coming years to help overcome the negative effects of climate change and mitigate global warming by reducing carbon emissions from development sectors such as production, manufacturing, transportation, waste and others. We will cooperate with our partners from both the public and private sectors to achieve the Dubai Carbon Abatement Strategy, to reduce Dubai's carbon emissions by 16% by 2021. In another milestone promoting Dubai's quest towards sustainability, DEWA has also launched the UAE Solar Programme of Activities (PoA) in collaboration with the Dubai Carbon Centre of Excellence (Dubai Carbon). Approved by the United Nations Framework Convention on Climate Change (UNFCCC), the Programme adopts the Clean Development Mechanism (CDM) in all solar energy projects across the UAE. It is a pioneering initiative for the UAE to support international efforts to promote green economy and sustainable development," added Al Tayer.
"Reaffirming its efforts to raise the bar of its corporate performance in sustainability, DEWA joined the Global Reporting Initiative's (GRI) GOLD Community, which gathers organisations shaping the future of sustainability and reporting, and empowering decision making for a more sustainable economy around the world. DEWA has also been invited by the GRI to be part of the Standards Pioneers Programme, which gathers organisations from all over the world that have demonstrated leadership in Sustainability Reporting. DEWA is one of 100 organisations worldwide who will adhere to the new standard before it becomes mandatory for all organisations by the end of June 2018," noted Al Tayer.
"I wish all the best and success for the Sustainability Leadership Conference and that it continues to serve as an excellent and strategic platform to promote sustainable development in Dubai, the UAE and the region," concluded Al Tayer.
During the opening session of the conference, Mahmoud Mohieldin, SVP for the 2030 Development Agenda, UN Relation and Partnerships, World Bank, commended DEWA's ongoing efforts to protect the environment and promote sustainability. He also praised DEWA for developing its services to meet the highest international standards.
"I welcome this collaboration, which demonstrates DEWA's leadership in developing the solutions needed for a better and more sustainable world. The Cambridge Institute for Sustainability Leadership draws on nearly three decades of experience in helping organisations address sustainability challenges and opportunities, and is well placed to support DEWA on this exciting journey," said Professor Sir Leszek Borysiewicz, Vice-Chancellor of The University of Cambridge.
Categories