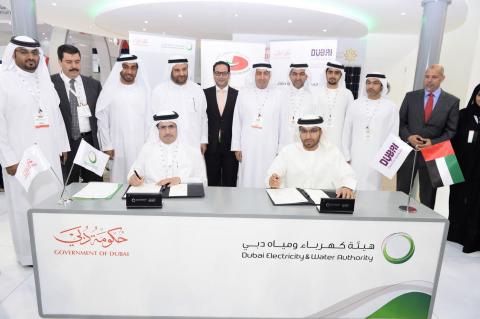 Dubai Electricity and Water Authority (DEWA) has signed a Memorandum of Understanding (MoU) with Dubai Culture and Arts Authority (Dubai Culture), during the Dubai International Government Achievements Exhibition (DIGAE) 2016, held from 11-13 April at the Dubai International Convention and Exhibition Centre. The MoU aims to improve relations, and exchange skills and information. This is part of DEWA's focus on developing strategic partnerships with organisations in the UAE, and Dubai in particular. The MoU was signed by HE Saeed Mohammed Al Tayer, MD & CEO DEWA, and HE Saeed Mohamed AlNabouda, Acting Director General of Dubai Culture.
The MoU will achieve mutual strategic goals, form mutual partnerships, and establish work plans, to increase the number of opportunities for improvement, support the implementation of plans, and follow up while making a final evaluation of corporate performance. It will also facilitate joint activities and programmes in mutual areas, enhance cooperation to achieve the rational use of electricity and water, discuss potential cooperation for sustainable social projects to achieve the strategic goals of both parties, and implement joint social projects to improve the corporate reputation of both parties.
Al Tayer expressed his happiness that the MoU has been signed between DEWA and Dubai Culture, and commended Dubai Culture's efforts to enrich the UAE's culture by creating a culturally-sustainable environment and sponsoring talent, to enhance cultural diversity and social unity. "The signing of this MoU emphasises our commitment to becoming a sustainable innovative world-class utility, and enhancing sustainability as a major part of our strategy, approach, and work.
The MoU supports the vision and strategy of Dubai Government, to conserve natural resources and reduce the carbon footprint. It also supports DEWA's commitment to build strategic partnerships with private and government institutions, and its Corporate Social Responsibility (CSR) to spread awareness about the environment and preserve it for generations to come. DEWA's efforts are integrated with other institutions and government agencies in Dubai. At DEWA, we work to develop our services on an ongoing basis in accordance with the highest international standards to meet our customers' needs, to achieve an integrated strategy and the wider Government of Dubai's strategy to achieve sustainable development in customer service and enhance the happiness of our citizens, residents and all stakeholders," said Al Tayer.
"The Vision of HH Sheikh Mohammed bin Rashid Al Maktoum, Vice President and Prime Minister of the UAE and Ruler of Dubai, is the roadmap that we follow, to provide a brighter and happier future for Dubai. We work to achieve sustainability everywhere, as it is a key element for development in the UAE. Sustainability is also a common factor between plans, programmes, and initiatives among different sectors and operations, to preserve natural resources, protect the environment, and enhance environmental sustainability, to achieve the sustainable development of the Emirate," added Al Tayer.
AlNabouda praised DEWA's intensive efforts to adhere to the highest international standards, to deliver electricity and water services as efficiently, reliably, safely and as readily-available as possible, to achieve happiness, and to protect the environment and natural resources, by developing a culture of sustainability and rational use.
"We are happy to have signed this MoU with DEWA, as it reflects our commitment to strengthen our cooperation with all stakeholders to achieve the strategic objectives set by the Dubai Plan 2021, which was launched by HH Sheikh Mohammed bin Rashid Al Maktoum.
Our cooperation with DEWA will contribute to achieving the vision of our wise leadership, and put Dubai at the forefront of government excellence both regionally, and internationally," said AlNabouda.
"At Dubai Culture, we work to transform Dubai into an international Arabic city that contributes to the cultural scene in the region, and throughout the rest of the world. Dubai Culture is committed to preserving a sustainable environment for generations to come, by raising awareness in regard to the importance of protecting natural resources, thus enhancing social initiatives."
"This has become apparent in Dubai Culture's ongoing internal and external initiatives, which includes Recycle Centres in public libraries, to encourage citizens and residents to recycle. Dubai Culture also organises regular internal initiatives to raise awareness about the importance of adopting environmentally-sustainable practices, and adhering to them. Our commitment is reflected by our future projects and initiatives in this field. This supports our efforts to unite with different government organisations, and get involved with different branches of society, as sustainability is a lifestyle and a responsibility shared by everyone," concluded Al Naboudah.
Categories