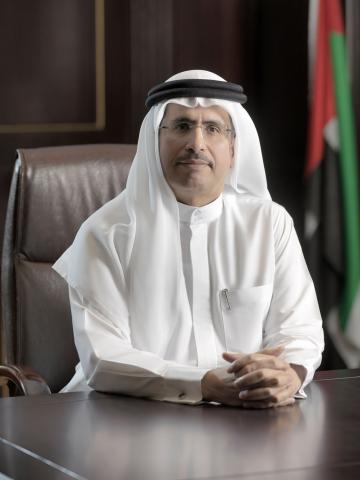 Dubai Electricity and Water Authority (DEWA) is highlighting its latest renewable-energy innovative projects at the 10th World Future Energy Summit (WFES), which is organised by Masdar, Abu Dhabi's multi-faceted renewable energy company, from 16-19 January 2017 at the Abu Dhabi National Exhibition Centre. DEWA is the efficiency sponsor of WFES 2017.
"DEWA is participating in WFES to exchange experiences, expertise, and best practices, and learn about the latest developments in green technologies and solutions. This will enhance knowledge and Research and Development to find innovative and sustainable solutions in clean and renewable energy and streamline efforts to address the current challenges facing the energy sector. We are happy to share our experiences and expertise in clean and renewable energy, especially the Mohammed bin Rashid Al Maktoum Solar Park," said HE Saeed Mohammed Al Tayer, MD & CEO of DEWA.
"The UAE has consolidated its global leading position in clean and renewable energy and is implementing quality projects to increase the percentage of renewable energy in the energy mix. At WFES, we highlight our efforts in building and developing renewable energy projects, and supporting research and development. These efforts support the Dubai Clean Energy Strategy 2050, which was launched by His Highness Sheikh Mohammed bin Rashid Al Maktoum, Vice President and Prime Minister of the UAE and Ruler of Dubai, to transform the Emirate into an international hub for clean energy and green economy, and to generate 7% of Dubai's total power output from clean energy sources by 2020. This target will increase to 25% by 2030 and to 75% by 2050," added Al Tayer.
At its stand in WFES 2017, DEWA highlights the latest developments of the Mohammed bin Rashid Al Maktoum Solar Park, which is the largest single-site solar energy project in the world, based on the Independent Power Producer (IPP) model. The solar park will produce 5,000MW by 2030 with a total investment of AED 50 billion. It will reduce 6.5 million tonnes of carbon emissions annually. DEWA is also showing a model of its new head office, which it is building in the Cultural Village, in the Al Jadaf area of Dubai. DEWA's new headquarters is called 'Al Sheraa' (Arabic for sail), and is set to be the tallest, largest and smartest Net Zero Energy government building in the world. DEWA is also highlighting its three smart initiatives launched to support the Smart Dubai initiative, to make Dubai the smartest and happiest city in the world. DEWA's initiatives include connecting solar energy to houses and buildings through the Shams Dubai initiative, smart applications through smart meters and grids, and building the infrastructure and electric vehicle charging stations through the Green Charger initiative.
DEWA also highlights its initiatives and projects that support the Comprehensive Hatta Development Plan, which was launched by HH Sheikh Mohammed bin Rashid Al Maktoum. DEWA's projects include the first hydroelectric power station in the GCC. The power station will be completed within five years and will produce 250MW. Other projects include installing photovoltaic panels on rooftops to produce electricity from solar power and installing smart meters in buildings. These other projects will be completed by the end of 2018. DEWA will also install electric vehicle charging stations in Hatta. These projects will provide around 2,500 job during and after the implantation phases.
DEWA is also highlighting the Solar Decathlon Middle East (SDME), which was created through an agreement between the Dubai Supreme Council of Energy and DEWA, and the United States Department of Energy. Dubai will host the first two rounds of the Solar Decathlon, which is held for the first time in the Middle East, in 2018 and again in 2020 to coincide with World Expo in Dubai, whose theme 'Connecting Minds, Creating the Future' fits well with this distinguished international competition. The total competition prizes are AED 10 million. University teams have to design, build, and operate energy self-sufficient houses, while preserving the environment and taking into account the region's climate.
DEWA's stand at WFES will also highlight the projects and initiatives of the Dubai Supreme Council of Energy, and the Emirates Central Cooling Systems Corporation (Empower), which promote energy efficiency, and reduce consumption and greenhouse-gas emissions. The stand also features Mai Dubai, which provides low-sodium drinking water to world-class standards, Etihad Energy Services Company (Etihad ESCO), which was established by DEWA to retrofit 30,000 buildings to increase their energy efficiency and reduce consumption, and the Dubai Carbon Centre of Excellence (Dubai Carbon), which recommends viable targets for reducing carbon dioxide and greenhouse gases and a methodology to monetise emissions, and other carbon reduction schemes.
DEWA's stand also presents the key projects of the UAE Water Aid Foundation (Suqia), which is under the umbrella of the Mohammed bin Rashid Al Maktoum Global Initiatives. In cooperation with DEWA, Suqia's R&D projects include reverse osmosis of sea water and a photovoltaic desalination plant, in addition to water purification using solar technology. The stand highlights the Mohammed bin Rashid Al Maktoum Global Water Award. The initiative has allocated USD1 million to finding sustainable solutions to help address water shortages internationally. The stand also features Innogy Middle East, the leading consultancy in energy and innovation.
WFES 2017, which is part of Abu Dhabi Sustainability Week, highlights energy-efficiency market, and the goals and initiatives of energy efficiency contracts in the Middle East and North Africa. It also focuses on the latest developments in sustainable transport, and macroeconomic indicators in the solar energy sector in the region.
Categories