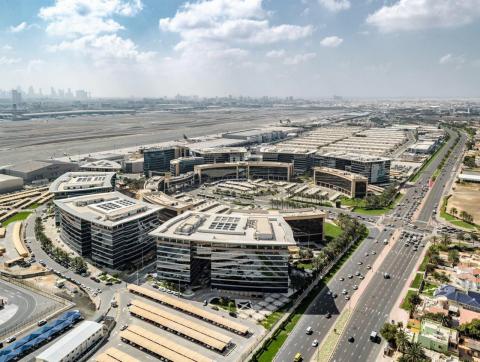 The Dubai Airport FreeZone Authority (DAFZA) has confirmed its participation in the ongoing The Big 5 Dubai International Building & Construction Show, the latest edition of the Middle East's largest construction event running from (Monday, November 21, 2016) up to the 24th at the Dubai World Trade Centre. DAFZA will interact with major construction and engineering players from around the world to discuss the numerous benefits of operating within the region's leading Freezone.
DAFZA will capitalize on the freshly formatted expo's immense global popularity to showcase its competitive advantages as a regional base of operations for construction and engineering firms. The Freezone will also take the opportunity to further expand its community of hosted multinational corporations (MNCs). As of Q3 2016, MNCs from sectors of Engineering and Building materials and Engines and Machines accounted for 12 per cent of the Freezone's newly registered companies. Around 14 per cent of the Freezone's hosted companies is related to the 'Big 5' sectors of Engineering and Building materials and Engines and Machines, 31 per cent of which are MNCs.
A team from DAFZA's Sales, Project and Marketing Departments will directly engage The Big 5 Dubai's participants at a dedicated stand. The Freezone will also arrange special business-to-business meetings with select exhibitors.
Jamal Bin Marghoob, Director of Marketing and Corporate Communication, DAFZA, said: "Each year, The Big 5 Dubai draws in thousands of global suppliers and buyers of construction products, technologies and services to explore prime opportunities within the dynamic Arab construction markets. It is an excellent platform for us to network with exhibitors, visitors, practitioners and experts and share DAFZA's highly influential role in helping construction and engineering companies establish a strong and highly productive presence within Dubai, the region's commercial and hub, and from here pursue more lucrative prospects in neighboring Middle Eastern, Asian and European markets. DAFZA considers its hosted companies involved in the 'Big 5' sectors as crucial not only to the growth of the Freezone but the accelerated development of Dubai and the entire UAE as well, so we aim to attract more partners at The Big 5 Dubai."
'Big 5' companies collectively occupy more than 25,000 sqm at DAFZA. They include Iguzzini Middle East FZE, Marazzi Group FZE, BAUER Special Foundations FZE, MANN+HUMMEL Middle East FZE, Mueller Co. International Holdings, LLC (Branch), BEDESCHI East FZE, Dover EMEA FZE, MITSUBISHI HITACHI POWER SYSTEMS, LTD., (Branch), Kobelco Construction Machinery Middle East, and Africa FZCO.
Categories