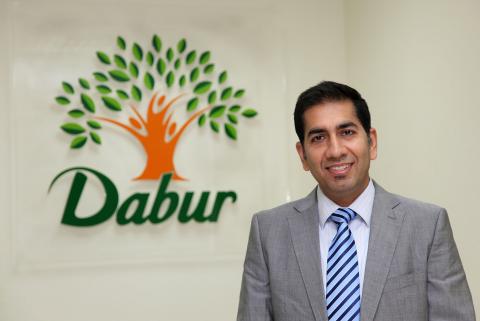 Honour bestowed in recognition of company's outstanding excellence in developing & releasing wide range of products for worldwide consumers
Dabur International has been named 'Global Retailer of the Year' during the 2017 Middle East Asia Leadership Summit and Awards held recently at The Address Dubai Marina. The event is dubbed as the grandest and the most prestigious award ceremony for recognizing and honouring major organizations as drivers and contributors of their industries and prominent industry personalities and leaders as well. The company was recognised for its outstanding excellence, particularly in its efforts to offer its global consumers a diverse range of products. Dabur International was selected by an elite body of jurors representing leading industry brands.
The Middle East Asia Leadership Awards is presented by the World Leadership Federation (WLF), a global platform for exchanging ideas, thought leadership, sharing experiences, and recognizing leaders for their high impact on their respective fields. The gala ceremony was attended by participants representing various industry segments such as e-commerce, fast-moving consumer goods (FMCG), retail, business process outsourcing (BPO), aviation and hospitality, among others. The exciting one-day event, where more than 150 awards were handed out, served as a strategic venue for leaders to learn about the latest worldwide leadership trends while also discussing timely and important industry topics.
This year's winners were carefully selected by a prestigious board of judges composed of industry icons, including Mehul Shah, Managing Director, Collabera; Rama Moondra, world-renowned coach, trainer, author and visiting faculty at Indian Institutes of Management; Nitin Shakdher, Founder & CEO, Green Capital; Ashok Ghosh, President, Sir Padampat Singhania University; and Sunny Shah, Head, WLF.
Mohit Malhotra, CEO, Dabur International, said, "We are very humbled with this recognition given by the World Leadership Federation, which reinforces our leading market position in the personal care segment within the region. The award is a fitting tribute to the strong dedication and commitment of our people--especially in their continuing efforts to integrate the science of Ayurveda with timely research and development to come up with products that cater to the needs and demands of our consumers in the region. We remain steadfast in our commitment to provide our consumers with world-class, high-quality, natural based products that not only addresses their personal care needs but also help them maintain good health and general well-being."
Dabur International has diversified into key consumer categories through various brands, including Dabur Amla, Dabur Herbal, Dabur Miswak, Vatika Naturals, DermoViva, DermoViva Baby, FEM, Jaquiline, Hajmola, Sanifresh and Odonil. The company has retained its position among the world's most trusted and recognised personal and healthcare companies due to an extremely high yardstick in its products and process development, meeting stringent quality standards. Dabur International is a major consumer goods company with the world's largest herbal and natural product portfolio that covers hair, oral, skin, and baby care.
Categories