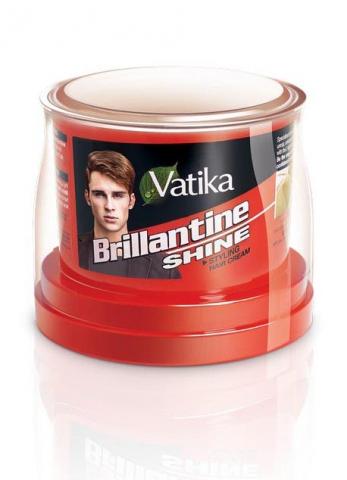 'Shine' & 'Anti Dandruff' variants offer styling & nourishing hair care to modern, young & energetic men
Dabur International has revealed that the two new variants of its Vatika Brilliantine Styling Hair Cream--'Shine' and 'Anti Dandruff'—can help address the hair grooming needs of today's modern man, giving them the opportunity to enhance their appearance and personality through proper hair care and styling. Vatika Brilliantine Styling Hair Cream's natural, and innovative formula not only provides unique styling by helping hair to mould and shape into different ways but also offers superior everyday nourishment.
 Vatika Brilliantine Shine Styling Hair Cream is fortified with the goodness of olive, coconut, and almond to provide intense shine while controlling unruly hair to keep them manageable and perfectly styled all through the day. Olive nourishes hair from root to tip while coconut helps strengthen hair shafts to give volume and almond acts as a natural hair conditioner. Vatika Brilliantine Anti-Dandruff Styling Hair Cream, on the other hand, is enriched with extracts of lemon, almond and tea tree that helps to eliminate dandruff and prevent further recurrence. Lemon is a natural astringent and almond a humectant, whereas tea tree's anti-bacterial actions aids in fighting dandruff.
 Abhinav Kumar, Senior Manager Marketing, Dabur International, said: "In today's highly competitive world where men take a lot of pride in their appearance, grooming has evolved from a simple haircut, clean shave, and well-fitted clothes. Keeping pace with the demands of metrosexuals, Dabur International has introduced Vatika Brilliantine Styling Hair Cream that is fortified with natural ingredients to provide dual benefit of styling and nourishment. Its innovative, superior and high-performance formula helps keep hair groomed all through the day, while the two variants are designed for specific hair types' texture and styling needs. We are confident that Vatika Brilliantine Styling Hair Cream will further enhance and simplify day-to-day hair grooming regimen of men in the region."
 Dabur International, a wholly owned subsidiary of Dabur India, has an overall turnover of over USD 1.3 billion and a market capitalization of around USD 8 billion. Dabur's International Business Division headquartered in Dubai is the cornerstone of its growth strategy, reaching a milestone of AED 1 billion within only eight years of its existence.
Categories