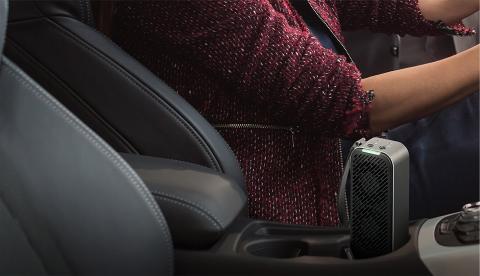 As an industry leader in home appliance and air solutions, LG Electronics (LG) continues to push the boundaries of smart home innovations, offering consumers new ways of experiencing elevated living standards.
In recognition of growing demand for solutions which place hygiene at their forefront, LG is advancing its product development efforts across multiple domains, including its air purifier lineup.
LG's single and double tower PuriCare air purifiers feature 360-degree purification. A thorough 6-step filtration system works to eliminate dust, odor and harmful gases, which are known to cause allergies and related respiratory conditions. With the added benefit of a Clean Booster that rises and rotates to deliver clean to every corner of the room, LG PuriCare models can also offer up to 74% faster dust removal.
While air quality can often be difficult to visualize, LG's air purifiers feature a Smart Indicator – measuring air quality via a PM1.0 sensor. An easy-to-follow numerical and color coding system notifies the user of the current air quality. As this improves, the colors also change in real-time, informing homeowners of the difference their air purifier is making.
Unique to LG's double tower PuriCare model, for families with young children, the air purifier also features a Baby Care option. This enables the lower ducts of the air purifier to operate independently, taking care of the air closer to the ground, where young children spend most of their time playing and exploring the world around them.
With LG's promise of delivering intuitive solutions, the company's PuriCare air purifiers are also operational via the LG ThinQ mobile app. Available on both Android and iOS devices, the application provides updates on air quality, notifies the user of any maintenance needs and also enables remote operation for true convenience. 
Building upon the success of the PuriCare range, LG also recently launched the PuriCare the world's first filter-type, portable air purifier in the local market. In recognition of lifestyle choices and requirements which see people spending more time on-the-go, the PuriCare Mini is designed to deliver clean air from wherever the user may be, at any time.
Weighing in at just 530 grams, the LG PuriCare Mini is as light as a 500 ml bottle of water – making it easy to transport from the home, to the car, the office and more. While being small in size, the air purifier still delivers on performance and the promise of creating healthier environments.
Its 4-Step Air Filtration System begins with the PM1.0 Sensor, which detects air quality in real-time. The PuriCare Mini's smart display educates the user on the quality of air using the same color coding system as its larger counterparts. Red indicates the highly polluted air, which the user will then see improve over time, eventually reaching green – when air quality is at an optimal level.
The second step is where the power of the air purifier's Dual Inverter Motor comes into play – pulling in the air at a rapid speed of 5,000 rpm. This is followed by a Total Allergen Removal HEPA Filter, which removes up to 99% of dust, super-fine dust and allergens – crucial to creating a cleaner environment. Backed by industry experts, the PuriCare Mini is also Intertek and British Allergy Foundation certified.
The final step harnesses Twin Tornado Dual Fans to deliver clean air back into the immediate environment. The dual fan system ensures that clean air is delivered not only quickly, but also far and wide. Tests have indicated that the LG PuriCare Mini can purify 50% of a car's air in just 10 minutes.
Ensuring clean air is available at a moment's notice, the LG PuriCare Mini also has up to 8 hours battery life and uses a USB-C charger, similar to a host of current mobile devices. The air purifier also is also compatible with the dedicated PuriCare Mini app, which enables operation via smartphones. The app also indicates air quality, battery level and when the filter is ready to be changed.
In the company's quest to promote innovation and meet regional demand, LG will continue to invest in the research and production of smart solutions which embed sanitization and hygienic practices at their core. In doing so, LG seeks to help improve living standards and truly add value to consumers' lives.
Categories