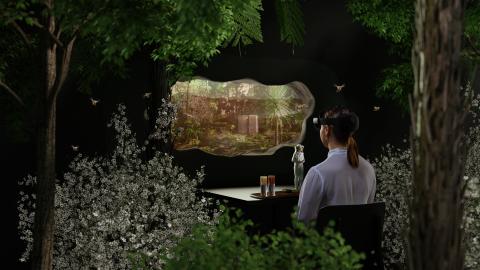 Bringing a fresh take to the traditional culinary tasting experience, Microsoft and Comvita are joining forces this month to host a mixed reality honey tasting at Expo 2020 Dubai. Taking place from 18th-20th January 2022 as part of the New Zealand Pavilion's Taste New Zealand celebrations, the multi-sensory pop-up utilizes cutting edge HoloLens technology to connect visitors to the magical work of bees.  
Globally recognized Mānuka honey brand, Comvita and Microsoft have created an experience that engages all the senses while being immersed in a virtual world of honey. Expo visitors can expect a thrilling 180-degree theatre experience inside their fully mobile headset, showcasing the sounds, tastes and unique benefits of Mānuka honey and the power of bees and nature. A must see for UAE honey fans and foodies alike, this immersive experience is not to be missed. Bookings are required.
As well as taking part in Taste of New Zealand, Comvita is a member of the Care Collective, one of the key sponsors and suppliers of the New Zealand Pavilion, located in the Expo 2020 Sustainability District. The global wellness brand will host several events over the course of the six-month programme, including exclusive product and experiential launches. Its premium Mãnuka honey also features heavily across the menu at the New Zealand Pavilion's Tiaki restaurant, showcased within seven of the restaurants contemporary New Zealand cuisine. 
David Banfield, Comvita CEO says: "We are super excited to have collaborated with Microsoft on this world-first consumer-led application of the HoloLens technology. This is a special chapter at Comvita as we aim to become a true digital-first, premium consumer lifestyle brand. Working with Microsoft and utilising the HoloLens technology gives us a unique opportunity to connect our consumers around the world to the magic of the hive and our unique Aotearoa Mānuka forests."