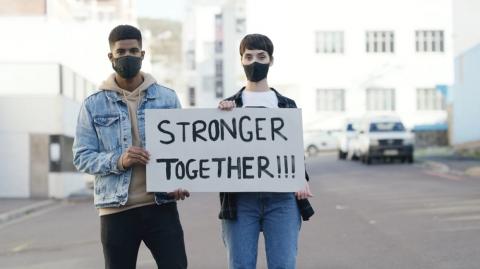 Global study of 22,000 people cites greater unity and cooperation as key to solving global challenges.
People across the world are eager to usher in a new era of global cooperation, with youth opportunities and greater involvement in environmental issues also topping the list of priorities, according to an Expo 2020 survey of 22,000 people across 24 countries.
The 2021 survey, conducted in partnership with YouGov, dug deep into a range of critical subjects such as health and wellness, sustainable travel, efficient food supply chains and the development of urban and rural communities – all of which will be focuses of Expo 2020's programming. It followed a similar study, carried out pre-COVID-19 pandemic, in 2019.
The number of respondents who are upbeat about their own future with regards to the Expo subthemes of Opportunity, Mobility and Sustainability increased to 65 per cent, up from 60 per cent in 2019.
Nine out of 10 respondents say international cooperation is fundamental to solving challenges such as the pandemic, while more than half believe sharing expertise and innovations, as well as collaboration between individuals and communities, are critical to overcoming humanity's obstacles and to building a more prosperous future.
While respondents unanimously agree on the importance of the exchange of knowledge and ideas, opinions differed across regions. Africa, South America and the Middle East all rank increased opportunities for youth as the most important moving forward, while equal opportunity for women and girls is the most pressing concern in Australasia and North America. International collaboration is cited as the most crucial future priority among European respondents.
Despite only 32 per cent saying they are hopeful about humankind's ability to combat climate change, three in five (61 per cent) are optimistic about the world's sustainable future.
Comparing nations, optimism for a global sustainable future is higher in countries such as Indonesia (82 per cent), India (72 per cent), the UAE (72 per cent) and Nigeria (69 per cent) versus Canada (42 per cent), Germany (36 per cent), France (35 per cent), UK (30 per cent) and Sweden (30 per cent).
When asked what lifestyle changes respondents are likely to implement as a result of their pandemic experiences, integrating more eco-friendly practices, such as cutting down on single-use plastics, and supporting local businesses stood out as important considerations.
 
Source: www.expo2020dubai.com