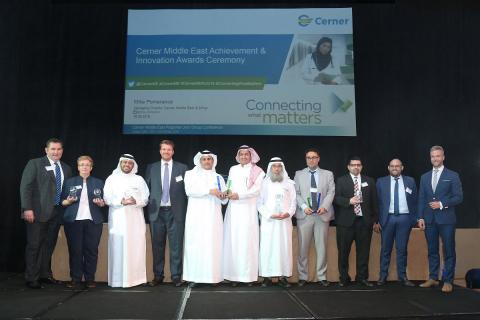 Cerner Middle East & Africa, celebrated their fifth edition this year of its Achievement and Innovation Awards by honoring its clients across the region for their most rewarding health care technology adoptions.
To reflect the changing dynamics in the health care industry, Cerner created five new award categories covering clinical and end user experiences to acknowledge their clients' innovative use of technology over the past 12 months for achieving outstanding patient outcomes and further advancing the quality of health care information technology system.
"The variety of projects and expertise showcased in this year's nominations highlights the progress our clients are accomplishing to transform health care and connect everything that matters to the patient," said Michael Pomerance, vice president and managing director, Cerner Middle East and Africa.
All shortlisted nominees and final winners were revealed during an awards ceremony at The Ritz Carlton Dubai during the annual Cerner Middle East Regional User Group Conference.
Abu Dhabi Health Services Company (SEHA) received two awards:
Achievement and Innovation in Patient Experience

SEHA automated the operating room booking process and eliminated 85 percent of the time required to get an operation scheduled. This eliminated over 2,000 hours in patient waiting time.

Achievement and Innovation in Support Services

SEHA created a process whereby they can now effectively engage with their 6,000 nurses to receive enhancement requests for their Malaffi system which allowed SEHA nurses to spend 10,000 additional hours with patients instead of with computers.
The Achievement and Innovation in Population Health Management was awarded to SEHA Ambulatory Health Services for improving the yearly retina scan compliance percentage for their diabetic population.  In 2013 they were at 40 percent compliance and their goals were to achieve higher than 60 percent per the international standard. They accomplished this by creating seven remote retinal scanning locations located throughout the UAE and today they have achieved 67 percent compliance.
Hamad Medical Corporation (HMC) in Qatar was recognized with the Achievement and Innovation in Clinical Decision Support award for leveraging the Clinical Information Systems platform to create an advanced alert which monitors their patients 24 hours identifying patients with deteriorating conditions and alerting clinicians to take action. This alert has stopped over 200 cardiac arrests based upon baseline data and an estimated 50 lives.  This is the second alert implemented at HMC.  The sepsis alert was implemented in 2015 and has saved 65 lives.
The Achievement and Innovation in User Experience award was granted to King Faisal Specialist Hospital and Research Centre (KFSH&RC) in Saudi Arabia. KFSH&RC's family medicine clinic has achieved HIMSS 7 Ambulatory certification by the HIMSS organization and is the first facility outside of North America to earn this accreditation.  The paperless and data intensive environment has allowed them to increase early colon cancer detection by over 300 percent in addition to many other improvements.
"We would like to thank our clients for their nominations and for giving us the opportunity to share their success stories, which help encourage other initiatives, and to foster more knowledge exchange among health care professionals. We are honored to play our part in facilitating the exchange of ideas and showcasing the achievements being made in defining the next era of health care," added Pomerance.
The awards ceremony was hosted during the seventh annual Cerner Middle East Regional User Group Conference, a two-day knowledge-sharing event designed exclusively for Cerner Middle East & Africa client health care leaders, clinicians and IT professionals. The event covered best practices and the latest developments in regional health care. More than 200 senior health care representatives from various organizations, hospitals and ministries attended.
Categories