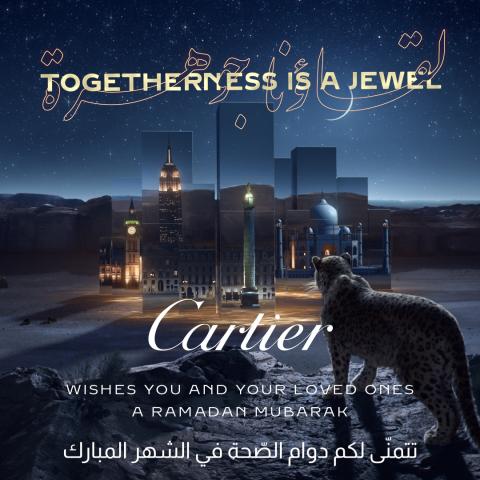 Cartier celebrates Ramadan this year with 'Togetherness is a Jewel,' a sequel to last year's movie that sees the Maison's iconic panthere return to AlUla and chronicles her journey through time and space. 

Appearing in the film, the region's significant landmarks such, Le Louvre Museum in Abu Dhabi, Al Faisaliah Tower in Riyadh, the National Museum of Qatar, the Kuwait Towers and the Bahrain World Trade Centre, pay tribute to the Maison's long-standing relationship with the Middle East. The special ties built over the years since Jacques Cartier's first visit to the region in 1912, have shaped The Maison's creative design and stylistic development. 

Under the crescent moon's glow, the panthere glides through the rocky landscape of AlUla, a crossroads of civilizations and bridge between East and West. Following a trail of magical sparkles, the Maison's emblem shines bright over the skyline of emblematic landmarks, addressing a powerful message of unity and togetherness.
In the spirit of Ramadan - the month of giving back, Cartier collaborated with Irthi, an organisation empowering UAE women artisans to co-design traditional woven baskets. Filled with locally produced dates, halwa, handmade candles and other handwoven accessories, Irthi's creations were delivered to Cartier's community and friends. In an effort to support the region's most vulnerable people, Cartier also pledged to donate to the Emirates Red Crescent's food programme fund on behalf of each basket recipient.

"At Cartier, we treasure the sense of community, mutual support and togetherness. And what better month than the one of giving, to express our gratitude for the well of inspiration this region has been, and for the long-lasting relationships we have built here," said Christophe Massoni, Chief Executive Officer of Cartier Middle East, India and Africa.