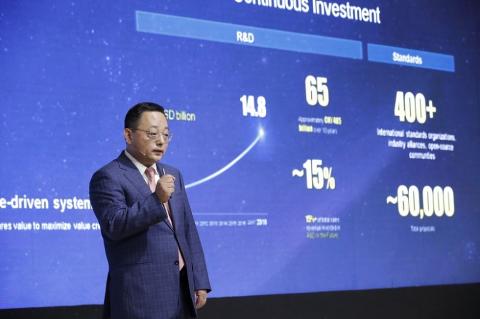 Prominent government leaders and business executives from across the region recently came together at the Huawei Day Lebanon 2019 held at the Seaside Pavilion in Beirut to identify ways of accelerating the country's move towards a new digital era. The two-day conference included a series of panels and workshops focused on how to address the transformation of industry today, leveraging innovative technologies to bring digital to every person, home and organization for a fully-connected intelligent world.
Hosted by Huawei, the conference included many of the company's local and international ecosystem partners, as well as ICT industry experts and analysts. Guests in turn enjoyed access to demos of cutting-edge ICT solutions with a special focus on 5G driven, AI-enabled applications for smart government, transport, finance, and more.
The spotlight on Artificial Intelligence (AI) comes at a critical time as large-scale 5G networks are also being launched—enabling  more people, things and devices to be connected than ever before. Exhibitions within the conference demonstrated how the unique combination of AI and 5G is now being integrated into intelligent cloud computing, smart campus networks, Wi-Fi 6 connectivity, and large-scale Smart City grids.   
Feng Nan, CEO of Huawei Levant Region, said: "We are on the brink of a fully connected, intelligent world where innovation happens rapidly and impacts everything. Now is the time for all organizations to embrace and activate intelligence through open, flexible and secure platforms. Simultaneously, artificial intelligence capabilities are becoming increasingly important. Future-focused events like this enable us to stay on the very forefront of an increasingly digital Lebanon, in line with the Lebanese government's empowering vision of 5G and network solutions."
"With the deepening of economic globalization, informatization has become a predominant driving force for global economic and social development. And digital economy as an important feature of the present era, has been constantly promoting the progress of human society." added Mr. Wang Kejian, China's Ambassador to Lebanon.
Jesse Lan, President of Huawei Consumer Business Group in Levant, commented: "In our Consumer Business Group, everything we do begins and ends with consumers. With this in mind, we will continue to innovate in core technologies – including 5G, AI, AR, and VR – and adopt an ecosystem strategy that covers all scenarios to bring an inspired, intelligent experience to global consumers in every aspect of their lives."
Huawei Day Lebanon 2019 was in part inspired by the company's deep commitment to global R&D, its current focus on accelerating the evolution to 5G and how to implement intelligent operations through AI. In 2018, Huawei invested USD 14.9 billion (14.1% of its sales revenue) in R&D, ranking fifth globally in The 2018 EU Industrial R&D Investment Scoreboard. Over the last ten years, Huawei's R&D expenditure has reached more than USD 70.5 billion. According to official data released by the World Intellectual Property Organization (WIPO), Huawei filed 5,405 patent applications to this organization in 2018, ranking first among all companies globally. More than 80,000 employees were involved in R&D, accounting for 45% of the total workforce.
Huawei was one of the early players in the 5G era, attaching great importance to 5G development. Huawei started to develop its own 5G technology as early as 2009. In 2013, Huawei hired more than 300 top experts from wireless industry around the world and announced that they put $600 million investment in 5G research. In 2016, Huawei set up a 5G product line. Today, thousands of employees are engaged in 5G product development. Following this in 2017 and 2018, Huawei invested almost USD 1.4 billion into 5G product development.
Making AI more inclusive is also a focus area for Huawei. To do that, Huawei believes that businesses and governments must have access to open, flexible, and secure digital platforms that host AI capabilities. It is essential for those in Lebanon to work together with government, industry partners and academia to synchronize on standards and policies wherever possible.
By the end of 2018, Huawei alone had more than 1,000 solution partners, 3,600 service partners, and 650 talent alliance partners around the world to deliver solutions to enterprises, and AI was a strategic consideration in many of these relationships. Huawei's AI portfolio includes its new Ascend series of AI chips – the world's first AI IP and chip series designed for a full range of scenarios. It also includes new products and cloud services that are built on Ascend chip capabilities, out of which Huawei aims to provide pervasive intelligence to help drive industry development and build a fully connected, intelligent world.
Categories