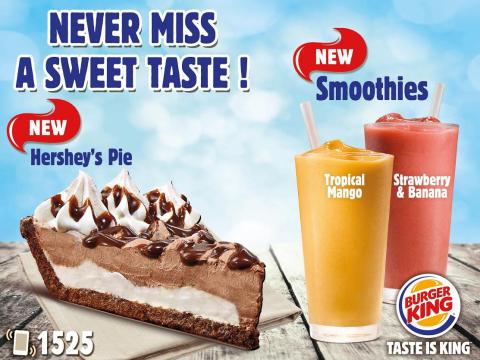 King Food S.A.L., the BURGER KING® brand franchisee in Lebanon, has expanded its dessert offerings with a delicious addition of traditional smoothies and Sundae pies to go along with their pre-existing line-up of tasty menu items.
The chain's new desserts feature two types of smoothies, the Strawberry Banana and Tropical Mango, both freshly prepared to order with real fruit and low fat yogurt. Another item is the Hershey's® Sundae Pie, perfectly glazed with a delicious topping and classic Hershey's® chocolate chips, with one part coated with chocolate crust and the other with chocolate creme filling.
Marc Kallassi, General Manager at King Food S.A.L., commented, "After launching several burgers, whoppers and wraps this year, we are happy to finally announce BURGER KING® Lebanon's newest dessert items. Continuously upgrading our menu is one of the many ways we evolve, offering our customers the maximum variety and value they love and expect from us."
The smoothies and Hershey's® Sundae Pie mark the first addition to BURGER KING® Lebanon's dessert menu this year.
Categories