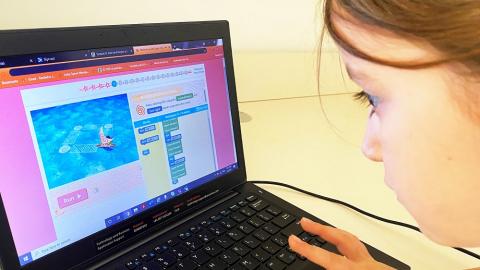 UAE-based primary school students take digital literacy to new heights, as Expo 2020 Dubai and Accenture celebrate coding achievement.
UAE-based primary school students have hit a computing milestone after successfully completing 2,020 hours of coding tutorials, as part of the '2020 Hours of Code' initiative by Expo 2020 Dubai and Accenture.
In the run-up towards Expo 2020 Dubai – Opening on October 1, 2021 - Accenture volunteers organized weekly tutorials at the Visitors Centre at Expo 2020 Dubai that enabled students to develop their coding skills, initially physically and concluded with virtual workshop where several schools in the UAE participating in this initiative.
The initiative is in collaboration with the Expo School Programme, which is dedicated to inspiring the younger generation by engaging with UAE school students and educators.
Empowering UAE-based students with digital, coding and computer science skills, reaching this milestone marks the largest scaling of Accenture's global initiative – 60-minute coding tutorial drive Hour of Code – in the Middle East.
The '2020 Hours of Code' initiative also reflects Expo 2020's commitment to hosting one of the most innovative World Expos in history and embraces Expo's theme, 'Connecting Minds, Creating the Future', while supporting its mission to deliver real-life solutions to real-life challenges.
 
Source: www.expo2020dubai.com