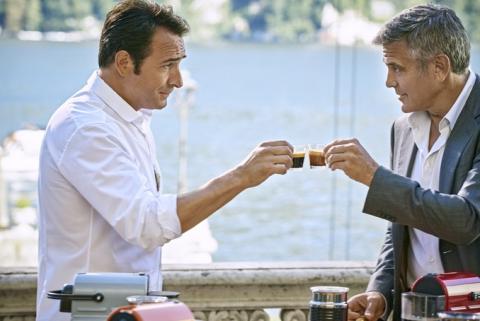 George Clooney and his favourite coffee are back – returning to light up screens in the latest Nespresso advertising campaign which debuted online on www.nespresso.com/howfar . This new footage illustrates how Clooney has more than met his match in French actor Jean Dujardin as he is outwitted in his quest for a Nespresso coffee.
George Clooney commented on set: "I have been associated with Nespresso for many years and it's fantastic that the ad campaigns continue to have such a positive reception. I was delighted to have the opportunity to work with Jean on this spot, even if he does get the better of me!"
In the grounds of a beautiful villa on Lake Como in Italy, we see Clooney go to make himself an espresso. He comes across his friend Dujardin who is about to help himself to the last Nespresso capsule. Clooney convinces Dujardin to give him the last capsule but only by offering him something in exchange! As he is about to savour his favourite Volluto Grand Cru, a beautiful lady approaches him and, being the perfect gentleman, Clooney offers her the cup of espresso only to realise that he has been tricked from the very start.
"With the new Nespresso 'What Else?' campaign we challenged ourselves to create a new and playful scenario with long-time brand ambassador George Clooney that viewers would enjoy watching and engaging with both on TV and on-line. This year we had the opportunity to also work with Jean Dujardin, which presented us with a unique dynamic for the TV commercial to show "How Far" both will go to enjoy that incomparable Nespresso moment," commented Guillaume Le Cunff, International Marketing & Strategy Director, Nestlé Nespresso SA. "As part of the campaign we will also invite Club Members and coffee lovers to go further with us and become part of the "How Far" story which will be extended across digital and social activations, to see just "How Far" they are willing to go to for their favourite Nespresso Grand Cru."
Jean Dujardin added: "I enjoy the humour behind these Nespresso campaigns and had great fun working with George Clooney on the set of this latest episode. I enjoy Nespresso coffee and took particular pleasure in drinking a Grand Cru destined for George!"
As with each of his Nespresso adventures, the Academy Award-winning actor and director collaborated closely with the brand, helping to select an intriguing storyline, improvising lines for maximum humour, and working with the director to create a sense of fun both on and off camera.  Nespresso and Clooney partnered with acclaimed director Grant Heslov – also an Academy Award nominated producer and screenwriter, actor and long-term Clooney friend. 
The full advertising campaign from Nespresso entitled "How Far" featuring George Clooney and Jean Dujardin debuted in November The launch of this campaign was created by a centralized Interpublic Group team based in Paris consisting of McCann for advertising, MRM//McCann for digital, Weber Shandwick for PR and Futurebrand for brand identity.
For more information, please visit: www.nespresso.com/mediacenter or contact:
Email:  Youmna.matta@ws-mena.com
About Nestlé Nespresso SA
Nestlé Nespresso SA is the pioneer and reference for highest-quality portioned premium coffee. Headquartered in Lausanne, Switzerland, Nespresso operates in almost 60 countries and has more than 9,500 employees. In 2013, it operated a global retail network of over 320 exclusive boutiques. For more information, visit the Nestlé Nespresso corporate website: www.nestle-nespresso.com.   
Categories