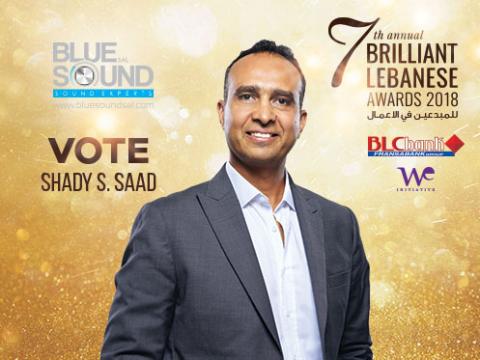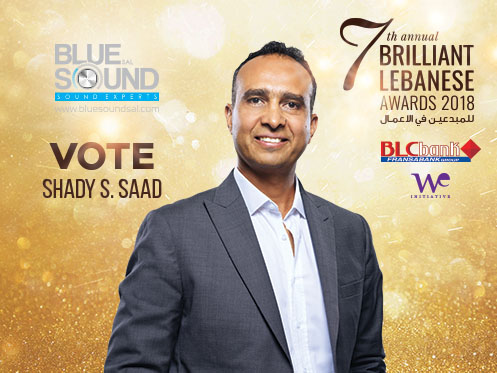 Blue Sound SAL, a renowned sound company, specializing in sound solutions, engineering services, and provision of musical instruments, has been shortlisted for the "Brilliant Lebanese Award" 2018 with Mr. Shady Saad, Managing Partner and CEO of the company.
This competition honors entrepreneurs in their respective fields and have shown personal commitment to both their work and the local community.
Mr. Shady Saad's rising enterprise, Blue Sound, was built after a solid 20-year experience in the industry with unique exposure to the latest practices in the field. Under his leadership, Blue Sound grew to become, within a short period of time, a reference in the sound business. Blue Sound's team has already achieved a wonderful portfolio of work with the most renowned artists of the century such as Julia Boutros, Magida El Roumi, Marwan Khoury, Carole Samaha, Michel Fadel, Tania Kassis, Guy Manoukian, Ragheb Alama, Wael Kfoury, One Lebanon to name a few.
The leading sound company has already accomplished track-record jobs including system design and setup of numerous local and regional international level events such as: Cedars International Festivals, Beirut Holidays' Festivals, Tanourine Festival, Jounieh International Festival , Beirut Cultural Festival, Al Bustan International Festival, Ehmej Festival, Dhour Shweir Festival, Sidon International Festival, Beasts Festival, Zahle International Festival, Oumsiyet Zahle, Ghalboun International Festival, Summer Misk Festival, Faqra Kfardebian International Festival, Amchit International Festival, Bkassine Festival, Energy music Tour, beside the other concerts that has been achieved like Kids United, AVICII, Britfloyd
"I am confident that Blue Sound seems to have the best chances to win this high accolade at the Brilliant Lebanese Awards, due to our reputation and success in the sound business. As Blue Sound, we are looking to grow and establish a greater presence in the industry and it is not a far-fetched objective thanks to our solid professional know-how in the sound field," noted Shady Saad.
The People's Choice Award, is accorded to the entrepreneur who gets the largest number of votes online. So hurry up and vote for Blue Sound before the competition's deadline on the link below:
Categories