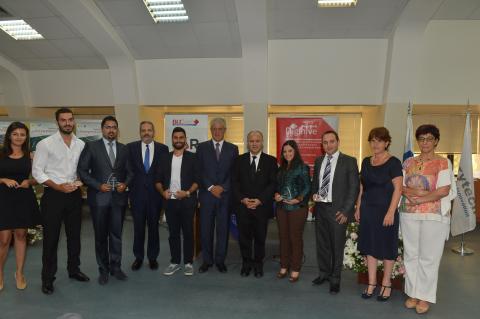 The 3rd edition of the Global Social Venture Competition (GSVC)
In collaboration with BLC Bank and in partnership with ESSEC, Université Saint-Joseph (USJ) and Berytech awarded the winners of the third edition of the Global Social Venture Competition (GSVC), an initiative that was launched 3 years ago in the aim of supporting and encouraging social entrepreneurship in Lebanon and the region. The award ceremony was held on July 8, 2014 at the Campus of Humanitarian Sciences at USJ in the presence of Professor Salim Daccahe, USJ Chancellor, Mr. Maroun N. Chammas, CEO of Berytech, Mr. Maurice Sehnaoui, CGM of BLC Bank and Mrs. Maryse Jomaa, Director of the Lebanese School of Social Training at USJ.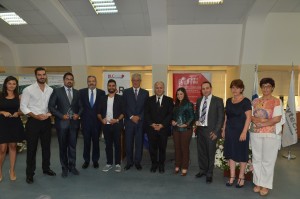 Opening Quotes
In his opening speech, Mr. Maroun N. Chammas expressed Berytech's honor to work hand in hand with prestigious, mobilized and engaged partners, keen on extending their full support to this initiative. He said: "We are working, together with our partners, to put at the service of the new generation of entrepreneurs, the expertise and know-how of our teams, professional networks and targeted programs in order to nurture the development of innovative social enterprises and make a difference in our communities. I would like to take this opportunity to also announce that the new Berytech Fund will present a major fundraising opportunity addressing social technological innovations".
From his side, Mr. Maurice Sehnaoui said: "For the second consecutive year, BLC Bank has been a key strategic partner and an active participant in the GSVC. Our commitment to this initiative comes in line with the bank's Corporate Social Responsibility strategy and aims at promoting social entrepreneurship while contributing to the development and success of social enterprises that have an impact on our environment and economic viability. We strongly believe in our young and passionate entrepreneurs who are eager to make a difference and contribute to the welfare of their communities".
On the role of the Lebanese School of Social Training in social entrepreneurship, Mrs. Maryse Jomaa commented revealing the school's strategy: "we are engaged in two activities, the first of which is the establishment of a University Diploma in social entrepreneurship, unique in Middle East, with an advanced curriculum, aiming at empowering project managers to design and implement relevant ideas through a business plan that ensures sustainability, development and social impact. The second is our decision to join the Global Social Venture Competition and experiencing this adventure with the participants". Congratulating the winners, Jomaa continued: "by following the path of innovation, you have proved to be true agents of change, tough players who can defeat any challenge by putting your skills at the service of great causes that deserve be supported and nurtured as one day, they will have a great impact on your country and the community around you".
The Prizes
Professor Salim Daccache presented the trophies to the winners who will benefit from a plethora of opportunities, and a great exposure to support and guidance programs, due to the initiative's collaboration with a network of professional partners, including international exposure, coaching and mentoring by experts and professionals, meeting with financial players and potential investors, incubation and a financial reward (offered by BLC Bank). 
The Winners
Jules Hatem, Founder of TripleE, winner of GSVC 2013, first presented his project that aims at providing technological solutions for water recycling.
1st prize – awarded to Mireille Chrabieh founder of «S-Miles», an academic center that offers an academic program, extracurricular activities and individual therapies to children with (or without) learning difficulties through multi-sensory experiences.
2nd prize – awarded to Mohammad Rabih Hamou founder of «Kotobkom», an online library for books swapping across the Middle East and all Arab countries.
3rd prize – awarded to Georges Ghafary founder of «Chreek», a project aiming to provide solutions to environmental and social problems in Lebanon starting with upcycling process, turning upcycled products into creative  and  premium quality furniture and other creative products.
The innovation prize was awarded to Rabih Maalouf, creator of Poddles, a project that brings ecological and low-cost housing solutions for the homeless.
After they received their awards, the winners presented their social innovations and the ceremony was followed by a cocktail reception.
Global Social Venture Competition (GSVC)
The GSVC was established in 1999, initiated by the "UC Berkeley Haas School of Business" and organized by "ESSEC Business School" in the EMEA region; the GSVC is an international competition of Business Plans reserved for projects combining social impact and visibility, and in collaboration with a network of prestigious partners. This competition targets young entrepreneurs with social passion and devotion required to present projects combining social and/or environmental impact with economic viability. 
The GSVC impact on the community in the past 3 years:
More than 300 participants have applied for this competition from Lebanon and the Arab region
Around fifteen incubated entrepreneurs
More than 6 professional trainings were organized as well as various awareness workshops
12 entrepreneurs participated in a mentoring program, each with a mentor to develop their entrepreneurial skills
More than 20 job opportunities were created
Various innovations with great social impact were selected in several areas such as health, education and environment. And this year the winners will receive a financial award offered by BLC bank to develop their project on a large scale 
For more information please contact:
Sandrine Sabbagh ou Roger Haddad, Service des publications et de la communication
Email: medias@usj.edu.lb