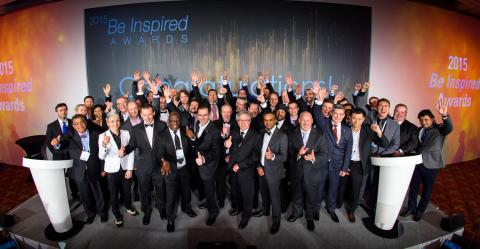 Global Program Celebrates World's Most Outstanding Advancements in Infrastructure Design, Construction, and Operations
Bentley Systems, Incorporated, a leading global provider of comprehensive software solutions for advancing infrastructure, today announced its call for submissions to the 2016 Be Inspired Awards program. The deadline for entries is May 30, 2016. The awards, which are selected by independent juries of industry experts, recognize the extraordinary work of organizations that help advance the world's infrastructure by designing, engineering, constructing, delivering, and/or operating safer, more resilient, sustainable, and intelligent roads, bridges, buildings, plants, water distribution networks, and a host of other infrastructure assets. The architects, engineers, constructors, and/or owner-operators that comprise these organizations help realize their goals by taking advantage of the many BIM advancements that Bentley software and services innovations provide them through:
an increased depth of information modeling, for better asset performance, and/or
an increased breadth of information mobility, for better project performance.
The 18 Be Inspired Awards categories in this comprehensive, global program cover every aspect of the built environment – from innovation in asset performance, building, and construction to innovation in government, land development, mining, offshore, project delivery, and more. A new category this year is innovation in reality modeling, showcasing projects that demonstrate excellence in reality capture and/or visualization that solved a specific design, construction, or operations challenge.
All Bentley users are invited to enter their projects in the Be Inspired Awards program, no matter what phase the project is in – preconstruction/conceptual, design, construction, or built. The three finalists chosen for each Be Inspired Awards category will win a trip to London to attend, as a guest of Bentley Systems, The Year in Infrastructure 2016 Conference, being held Nov. 1-3 at the Hilton London Metropole in the U.K. The finalists will present their projects in the Be Inspired Awards finals portion of the conference before the judges, industry thought leaders, and more than 100 members of the media gathered for this highly interactive event comprising presentations, summits, and workshops.
Paul G. Wilson, technical director, Digital Project Delivery, EMIA, AECOM, said, "We were honored to be recognized at the 2015 Be Inspired Awards for our innovative project delivery work on the Stockholm E4 Bypass – one of the largest civil engineering projects in Sweden. The competition for this prestigious award is itself inspiring given the number, quality, and scale of the projects nominated. As an integral part of Bentley's Year in Infrastructure Conference, the awards showcase some of the sector's most pioneering projects and provide valuable insight into innovative technology in use. We look forward to participating in the 2016 event."
Paul Brown, CAD/BIM/CAE design manager, SWIP/4LM Projects Engineering Services - Capital Programmes Directorate London Underground Ltd., said, "We are extremely proud that our London Underground tunnel remediation project was among those nominations honored at the 2015 Be Inspired Awards program in London last November. This innovative competition is aptly named given the remarkable accomplishments in infrastructure design, engineering, construction, and operations that it annually recognizes. It provides a wonderful opportunity for participants to have their advancements in project delivery and asset performance highlighted on a global stage in front of their peers, industry thought leaders, and members of the media. There simply is no other program quite like it!"
Chris Barron, Bentley vice president, corporate communications, said, "I strongly encourage Bentley users to take advantage of this call for submissions and fill out their nomination forms now. Much more than a competition, our Be Inspired Awards program uniquely brings together infrastructure professionals, along with members of the media, to share innovative BIM advancements in infrastructure project design, engineering, construction, and operations – advancing project delivery and asset performance. At the same time, it celebrates the innovative achievements of architects, engineers, constructors, and owner-operators in bringing to fruition infrastructure projects large and small.
"Every Be Inspired Awards nomination receives significant and valuable recognition across the global infrastructure community. So it's a win for all – from the remarkable projects nominated to the infrastructure professionals and organizations that created them."
Through the Be Inspired Awards program, participants can:
gain global recognition by having their architectural or engineering infrastructure projects profiled in Bentley's Infrastructure Yearbook, which is distributed in print and digital formats to nearly 150,000 key media, government, and industry influencers around the world; in addition, all winners and finalists, as well as other project nominees, are featured on the User Project Profiles website page;
enhance their competitive edge by demonstrating to existing and potential clients the value they and their respective organizations add to projects through their innovative use of BIM advancements;
receive media coverage by interacting with global media as well as members of the Bentley team, who will help them market and promote their respective projects.
For additional information about the Be Inspired Awards program, or to nominate a project, visit www.bentley.com/BeInspired.
Categories