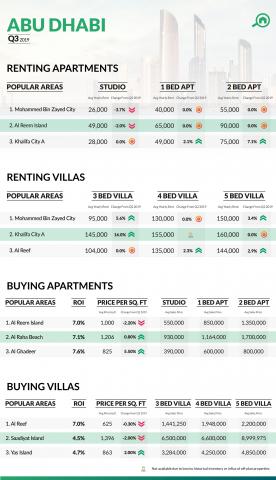 Bayut's latest Q3 2019 market report shows that the Abu Dhabi real estate market offers healthy conditions for home buyers/investors after the opening of key investments zones for freehold expat property ownership. Sales prices in the capital have taken a positive turn with the prices either holding steady or slightly increasing.
In Q3 of 2019, neighbourhoods like Al Reem Island, Al Raha Beach, Al Reef and Saadiyat Island dominate the investment sector while established suburbs such as Mohammed Bin Zayed City (MBZ City), Khalifa City A, and Al Muroor remain a popular choice for rentals in Abu Dhabi. 
In terms of popularity, Bayut's report shows that Al Reem Island takes the crown as the most preferred area to buy and rent apartments in Abu Dhabi. For villas in Abu Dhabi, Al Reef continues to be the most popular with buyers/investors and MBZ City is the favoured choice for tenants. 
These areas have been consistently in demand from the beginning of 2019, and continue to attract tenants and potential homeowners thanks to their favourable prices, appealing location and family-friendly attractions.
When comparing prices of properties for sale from Q2 of 2019 to Q3 of 2019, the overall trend shows promising signs of stability; tenants and buyers are showing consistent interest in the same neighbourhoods and prices are staying steady in most popular communities. 
Investment zones such as Al Raha Beach, Masdar City, Saadiyat Island and Al Reef have garnered most interest with buyers looking at apartments for sale. Homeowners in these communities will be happy to note that these neighbourhoods are either steady or showing a slight increase in average price per square foot. Properties in Al Ghadeer, one of the new affordably priced neighbourhoods in the capital, also experienced an increase in average price per square foot by 5.5%, indicating that demand for neighbourhoods close to Dubai is continuing to increase, especially among professionals who need to commute between the two cities. 
A similar trend can be seen for villa sales in Abu Dhabi, as Al Reef and Saadiyat Island still hold the interest of potential investors. The average price per square foot in these areas remain steady with decreases not exceeding 2%. 
The rental trend for apartments in the popular areas of Abu Dhabi shows a moderate decline in cost between 2% - 5%. The list of popular areas to rent in the capital continue to include family-friendly areas such as Al Reem Island, Khalifa City A, Shakhbout City and more. 
The 2-bedroom units in Corniche Road showed decreases of 8.3% with rents dropping from AED 120k in Q2 of 2019 to AED 110k in Q3. Rents for 2-bedroom apartments in Airport Street and Al Muroor also experienced a similar 7.7% decline from AED 65k to AED 60k in both areas. This shows that tenants are negotiating good rents in these popular areas and upgrading to larger units, a trend we have seen continuing on from the beginning of the year. 
When it comes to renting villas, units across the board in MBZ City saw marginal increases between 1% - 4%, which is a testament to the area's continued popularity with families, giving landlords an opportunity to negotiate good rents with tenants. The other area that saw an increase is Al Bateen, where 5-bed units went up by 9.1%, which can be attributed to the fact that the area has a limited supply of luxurious villa properties, making it easier for landlords to negotiate favourably with tenants. 
The only decline for villa rentals is a 6.7% decrease of rents for 5-bed villas in Shakhbout City (Khalifa City B) from AED 150k in Q2 of 2019 to AED 140k in the present quarter. 
Areas with a high return-on-investment in the capital city include Al Maryah Island, which offers a 10.7% ROI for apartments, while Al Reef has the best rental returns for villas at an average of 7%.
When it comes to off-plan properties in Abu Dhabi, developments on Yas Island and Saadiyat Island continue to attract investor attention. Within Yas Island, Yas Acres is the most popular. As for Saadiyat Island, the off-plan apartments in Park View are the most searched for by users on Bayut.
For further details, take a look at the full Q3 2019 Abu Dhabi market report by Bayut.
Haider Ali Khan, the CEO of Bayut commented on the steady conditions in the Abu Dhabi property market: "Abu Dhabi has always been an attractive market for both local home buyers and those from the expat community. While Emirati and GCC investors dominated the market earlier, expat buyers and investors are also taking advantage of the attractive options in the capital, with the recent announcements of the new laws,"
The latest report from Abu Dhabi Department of Economic Development shows the city's overall GDP is expected to grow by 3% with non-oil growth projected at 3.9%. With the investor profile extending to a wider audience, we can expect real estate to also contribute further to this growth. If we look at how the trends have evolved over the course of this year on Bayut, communities such as Yas Island, Saadiyat Island, Al Reem Island and Masdar City have shown a good level of interest from potential buyers. These areas alone have raked in close to half a million views in 2019 from users on Bayut, searching for properties available for sale in Abu Dhabi. These areas alone have raked in close to half a million views in 2019 from Bayut users interested in properties for sale in Abu Dhabi. The appeal is fairly evident; these are all family-friendly communities developed by reputed builders with major tourist attractions, schools and hospitals which makes them promising for those who are looking at homes to buy." He included.
Categories