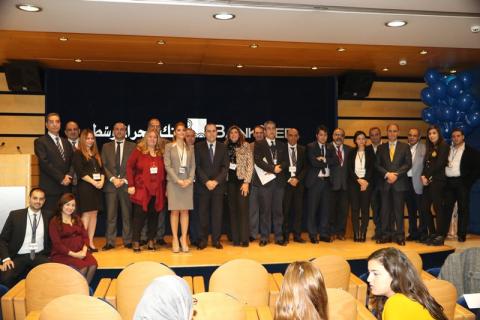 Beirut, DD December, 2014
– In line with its strategy to support youth in their educational and career paths, BankMed offers undergraduate students, who come from various Lebanese universities, the opportunity to explore their interests and develop their skills through a distinguished internship program. This step underpins the Bank's responsible approach to business and highlights its endeavors in shaping its long-term sustainability goals. In 2014, BankMed provided internship opportunities to 95 students. The number of participants has expanded in comparison with previous years.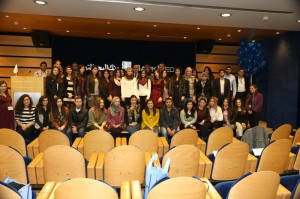 BankMed's Retail Internship program is an oriented learning opportunity that is designed to enable undergraduate students gain a practical experience in the banking field. Throughout the program, students are exposed to an environment that allows them to think and interact in the operational banking setting. On November 29, 2014, BankMed concluded the ninth edition of its Retail Internship Program, "Making a Difference," in a special ceremony held at its headquarters in Clemenceau. The ceremony gathered, in addition to the talented students, who were invited to celebrate their success, university professors and a number of the Bank's executives, who recognized the achievements of the high performing interns. During the ceremony, Mr. Fadi Flaihan, Head of Retail Banking at BankMed, highlighted the importance of the internship program and the vital role it plays in ensuring a sustainable and bright future for tomorrow's generations. Following Mr. Fleihan, Mrs. Rola Ejjeh, Head of Talent Management and Training at BankMed, further shed light on the program noting that BankMed has always been committed to providing the right venue for students to bridge the gap between the theoretical learning and practical application in the real world, adding that BankMed is also committed to enhance its internship program and develop it year after year. The key university officers, present at the event, praised BankMed's internship program for its pivotal role in creating opportunities for students, where they can put theory into practice. Mr. Jihad El Hokayem, Head of Internship for Finance and Accounting majors at Notre Dame University (NDU), recognized the efforts of BankMed's training teams in supervising the trainees and monitoring their performance. Following Mr. Hokayem, Mr. Habib Jourdi, Head of Faculty of Business at the Lebanese University, commended BankMed's Retail Internship program and thanked the Bank for endorsing this initiative. In his turn, Mr. Antoine Sabbagh, the Executive Director of the School of Business at the American University of Beirut (AUB), acclaimed BankMed's internship program and complimented the Bank on the rewarding experience that the program provides to students. The ceremony was concluded with the distribution of certificates and awards to distinguished performers. The internship program allows BankMed to maintain its competitive and leading stance in the market, and it also enables the training caretakers at the Bank to identify potential candidates for future recruitment.
Categories