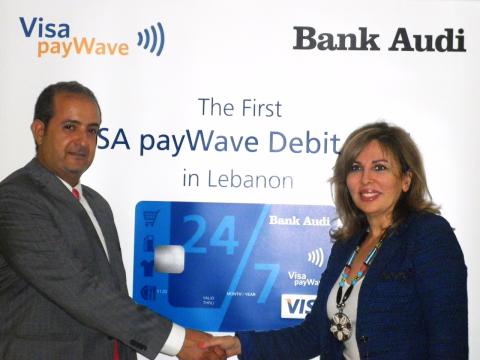 Beirut, June 1, 2014 - Bank Audi sal, Lebanon's largest bank, has become the first Lebanese bank to implement the Visa payWave technology and issue Visa payWave debit cards to its customers.
Visa's payWave technology is a globally accepted contactless payment technology that ensures a faster, easier and more secure way to pay for everyday purchases.
This revolutionary technology has helped optimise the customer experience at all points of sale and is already quite successful across the world for its speed and convenience.
The launch of Visa payWave debit cards in Lebanon will contribute to boost the usage rate of debit cards on POS terminals that were long used for cash withdrawals on ATMs and will provide customers with a new payment solution turning daily low value transactions into quick payments by a simple tap of the card on a contactless reader. For cardholders, it is faster than paying with cash, as well as more convenient and secure because the chip embedded on the card provides high levels of security against fraudulent transactions.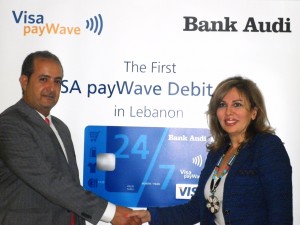 Randa Bdeir, Group Head of e-Payment Solutions and Card Services at Bank Audi, commented: "Bank Audi recognises the importance of contactless technology and is pleased to partner with Visa to bring this innovative technology to the Lebanese market. We have built a solid infrastructure in Lebanon by distributing contactless readers to more than 3,000 merchants, especially as regards to payments and small ticket transactions. Contactless technology is known for its reliability and security, and customers can expect a seamless experience when they transact at all check-out points. We are confident that the payWave cards will be well received by our growing base of tech-savvy customers."
Ramzi Al Saboury, Country Manager – Lebanon at Visa, said: "Visa's payWave technology has been successfully adopted by merchants worldwide and we are delighted to be able to bring this smart and efficient technology to the Lebanese market for the first time through our long-standing partnership with Bank Audi, the largest bank in terms of assets and the one with the most extended network in Lebanon." He added: "Visa's payWave technology has the dual benefits of optimising the customer experience at points of sale and enhancing the merchant experience through swifter checkout and lower cash handling costs. The NFC (Near Field Communication) technology is paving the way for smarter business transactions across the Middle East and we expect more people to take to this simple and secure way to pay as consumer awareness about payment ease and security increases."
This move expands the Bank's support for new payment solutions and gives customers greater options for quick and secure payments with the implementation of the chip technology. The launch of the payWave technology consolidates Bank Audi's ongoing concern to adapt to people's lifestyles and provide convenient and secure payment solutions, while contributing to enhance its customer base.
Categories