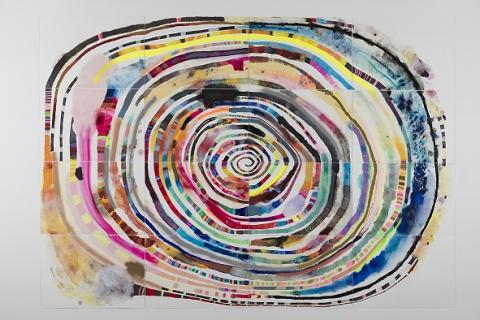 Twelve artists represented by a selection of Latin America's leading galleries have arrived in the UAE to take part in Art Dubai Residents, Art Dubai's unique annual residency programme and gallery section. Coming from Brazil, Uruguay, Argentina, Cuba and Colombia, the invited Residents artists will spend 4 to 8 weeks immersing themselves in the life and culture of the Emirates and the local art scene to create new artworks for sale at the fair which merge their distinct artistic practice with their surroundings.
"Something I was preoccupied with whilst planning the fair is the notion of 'the perception of others': the lens through which we view others, and indirectly ourselves. By taking these artists out of their usual environment and existing arts communities, challenging them to adapt and exchange in dialogue, we hope to see not just some exciting works but how their perception of others, and the UAE, shifts. For the smart collector, these artworks are very exciting pieces – completely new, shaped by and created in a new context." said Art Dubai's Artistic Director, Pablo del Val.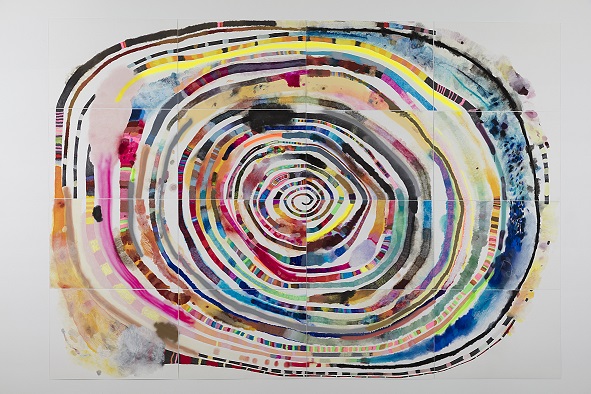 Art Dubai Residents 2019 is co-curated by São Paulo–based curator and artistic director of art space Pivô, Fernanda Brenner, who explained her vision: "The artists we've selected all work with different media and come from different backgrounds. Even though they share a continental territory, each country in Latin America is very different and full of complexities, so my intention is to deconstruct this idea of homogeneity and instead highlight the singularities".
The artists will set up temporary studio space in the UAE: at Dubai Design District and Tashkeel in Dubai and Bait 15 and Warehouse421 in Abu Dhabi. The residency programme acts as a starting point for introductions to and conversations with the local arts scene; promoting encounters and providing the artists with a comfortable working environment to allow for each artist to respond in their own way to the situation they find themselves in.
The programme's co-curator Abu Dhabi-based Munira Al Sayegh believes the most important outcome of the project will be in the introduction of the Latin American artists into the fabric of the arts scene in the United Arab Emirates, "It is extremely important that the artists who are participating in this residency infiltrate further than just the surface of the United Arab Emirates. It is key for the artists to engage and exchange with local artists in order to further their understanding of the makeup of what the UAE really has to offer."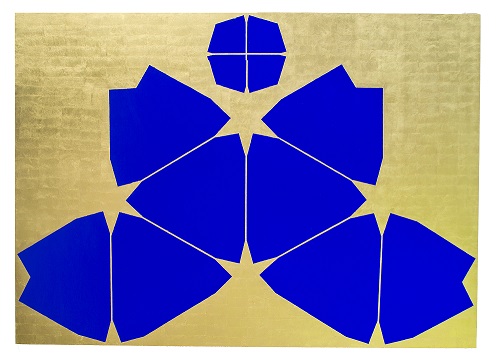 Art Dubai Residents is supported by the Office of Public and Cultural Diplomacy in the UAE: "The UAE's culture and values set us apart. We're delighted to support on Art Dubai Residents which align with our mandate to share them with the world," said Minister of State, His Excellency Zaki Nuseeibeh.
Residents is accompanied by a range of public events and open studios, hosted by the residency spaces, giving the public an opportunity to interact with the artists and follow the production of their works up until their presentation at Art Dubai 2019. More details will be announced soon.
MEET THIS YEAR'S RESIDENT ARTISTS:
Based at Dubai Design District, Dubai
Nicanor Aráoz (b.1981 Argentina) produces objects, installations, drawings and sculptures using as a reference images from comics, imagery from Internet and romantic mythologies taken from gothic art. In his practice, he attempts to push the boundaries of materials in search of intermediate emotional states. 
Rodolpho Parigi's (b. 1977, Brazil) drawings and paintings are somewhere between figurative and abstract. His vibrant compositions, defying any perspective, almost giving rise to vertigo and use a wide spectrum of visual references such as the history of art, design, advertising, pop culture, botany, zoology and anatomy.
Luiz Roque (represented by Mendes Wood DM, São Paulo/ Brussels/ New York)
Attracted by the power of image and, in particular, by sensations that stem from the sense of vision, visual artist Luiz Roque's (b. 1979, Brazil) work crosses different territories, such as the genre of science fiction, the legacy of Modernism and pop culture, in order to understand and propose ingenious and visually sensual narratives.
Based at Tashkeel, Dubai
Grounded in a material aesthetic and ethic, Alexandre da Cunha (b. 1969, Brazil) makes sculpture and wall-mounted work using transformed everyday or found objects. Da Cunha describes his practice as 'pointing', not 'making': pointing at existing objects in our everyday surroundings, and highlighting or revealing new and unexpected facets or meanings within them. This approach has allowed him to unpick our preconceptions and instinctive responses to things and shift our perspective to new ways of seeing and understanding.
Laura Lima (represented by A Gentil Carioca Gallery, Rio de Janeiro)
Laura Lima's (b. 1971, Brazil) works are experimental arrangements that explore the margins of our perception along the boundaries between reality, illusion, and fiction. Working across mediums, Laura Lima frequently subjects the body to surprising juxtapositions with objects and architectures. With each installation, Lima consistently reinvents the viewer's encounter with her work, skillfully considering the nature of perception, social relationships, and human behavior, while creating profound and startling aesthetic experiences.
In his work, Luis Enrique López-Chávez has been conducting a research exercise on the development of the plastic form and on the frictions that such form generates by introducing itself as an affirmation in the logical space of the world. From this contact with the socio-historical context, with language or with art itself, he proposes an image contained between a conceptual methodology and an un- conscious pulse, between a philosophical proposition and a poetic image.
Based at Bait 15, Abu Dhabi
Luciana Lamothe (b.1975, Buenos Aires) works with sculpture, assemblage and installation to interrogate the dialectical relationship between construction and destruction, the social and the anti-social. The ambivalence of the materials she works with, in terms of strength and ductility, soft and hard, can be clearly perceived in her pieces.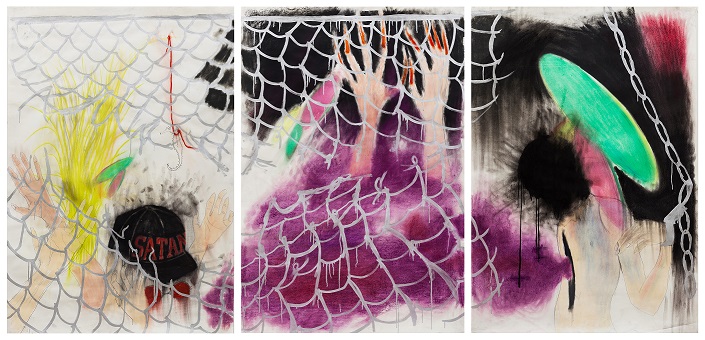 Mazenett Quiroga (represented by Instituto de Visión, Bogota)
Mazenett Quiroga are interested in exploring the interrelationship between organisms and the misnamed "resources" of our environment. Their distribution and resignification through culture. They strive to blur the distinction between the concepts of nature and culture. The duo have developed a practice based on an oscillation between past and present, science and mythology, Amerindian cultures and western influence, finding interstices between these apparent polarities.
Based at Warehouse 421, Abu Dhabi
For over two decades, Jerry B. Martin (b. 1976, Colombia) has been using a typewriter as the main tool for his practice: a private performance based on transcription as a means for cognition. By typing and over-typing sentences, paragraphs, texts and even complete books, the artist creates lights and shadows that end up translating information into an image on paper that establishes links between author, material, content, process and itself.
José Manuel Mesías (b.1990, Cuba) takes notable moments from history and re-contextualises them, combining them with contemporary moments and more intimate occurrences. Mesías aims to capture urban beauty and simultaneous deterioration in his works; he seeks to portray the same anxiety and marvel he experiences through his everyday life and that, he argues, the world provokes in equal amounts. 
In her most recurring practice, Flora Rebollo's (b.1983, Brazil) creates dynamic large-scale colourful compositions which employs a number of graphic features and are intriguing by both their profuse use of electric and muddy colors and their elusive shapes that appear to rebuild themselves incessantly.
Through a process of finding and collecting materials, Verónica Vázquez (b.1970, Uruguay) repurposes discarded objects to create visually striking sculptures and wall reliefs. Her work references both the history of Uruguayan Constructivism as well as the legacy of the Italian Arte Povera.
Categories