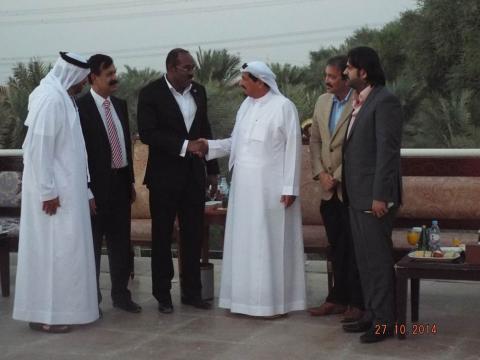 November 16, 2014
The Prime Minister Mr Gaston Browne, and the Foreign Minister Mr Charles Fernandez, Antigua & Barbuda called on to His Highness Sheikh Humid Bin Rashid Al-Nuaimi, the Ruler of Ajman and Member of Supreme Council of UAE on 27 October 2014 at Al- Zahya Palace Ajman.
The Chairman of Sweet Homes Group, Abdul Sattar Dero along with the Managing Director, Fahad Sattar Dero were also accompanied the delegation. It was also attended by the senior officials of Ajman Government and other dignitaries.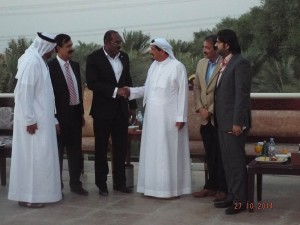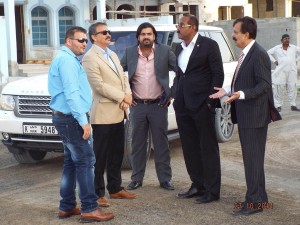 HH Sheikh Humaid welcomed the Prime Minister, the Foreign Minister and his team. While appreciating the satisfactory performance and services of Sweet Homes Group of Companies in the development of freehold projects in the Emirates of Ajman, His Highness conveyed the good luck and best wishes to Sweet Homes for positive contribution in the future developments as well.
The Prime Minister, while thanking His Highness Sheikh Humaid Bin Rashid Al- Nuaimi on the warm welcome and hospitality extended to the delegation, invited His Highness Sheikh Humaid Bin Rashid Al- Nuaimi, the Ruler of Ajman & Member of Supreme Council UAE to visit Antigua and Barbuda for any possible and potential bilateral investment opportunities and economic cooperation.
The Prime Minister and his team also visited and inspected the on-going Free Hold Projects of Sweet Homes Group (Ajman Uptown and High Rise Towers) and was very appreciative on the dedication and commitments of Sweet Homes Group which however was also commended by His Highness Sheikh Humaid Bin Rashid Al- Nuaimi.
Being inspired, the Prime Minister of Antigua & Barbuda, before His Highness, announced that in order to support the twin cities (Ajman & Antigua) developments, the individual Investors of units of Ajman Uptown (being developed by Sweet Homes) will be eligible (subject to due diligence and contribution) for citizenship in Antigua & Barbuda under Citizenship Investment Program (CIP, http://www..cip.gov.ag)
Mr Fahad Sattar Dero, while thanking both His Highness Sheikh Humaid Bin Rashid Al  Nuaimi and Honorable Gaston Browne, on their appreciations, support and confidence reposed in Sweet Homes Group, have reaffirmed to fulfil the commitments by continue rendering the services in the Real Estate Sector and will also play a pivotal role in future developments in both the Cities.
Categories