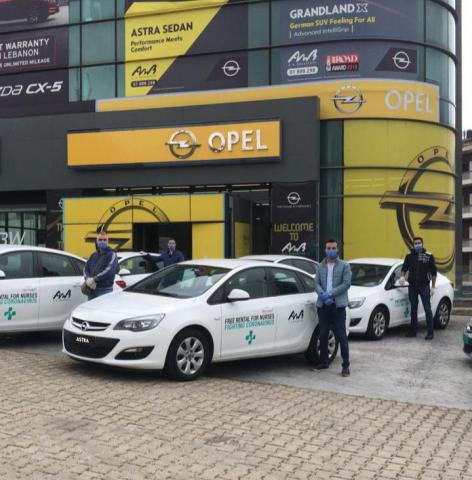 A.N.Boukather Holding (ANB) has launched an initiative to provide Free Mazda and Opel Rental cars to nurses fighting COVID-19 in Lebanese Hospitals, the aim of this initiative is to provide safe transportation for these nurses to their jobs.

They have started delivering the fleet cars to these nurses today. They are receiving thousands of requests on their hotline and demand is very large !

We call upon other companies who own a fleet of cars that is not being used to follow the lead & join efforts into helping the community as much as possible during these hard times!

Counting on your cooperation & generosity.
About A.N.Boukather
Established in 1927, A.N Boukather SAL is the exclusive distributor of premium automotive brands in Lebanon including Mazda, Opel, Ford, Piaggio, Vespa, Aprilia, Moto Guzzi, Gilera, KTM, Bajaj and Otokar. It is today one of the subsidiaries of A.N Boukather holding along with four other companies operating in the fields of real estate, construction and car rental.
For more information on this initiative, visit their pages
Mazda: https://www.facebook.com/MazdaLebanon/ or https://www.instagram.com/mazdalebanon/?hl=en
Opel: https://www.facebook.com/OpelLebanon/ or https://www.instagram.com/opellebanon/?hl=en
You can also contact them on: 01-888 298 or WhatsApp us on: 70-500 400
Categories