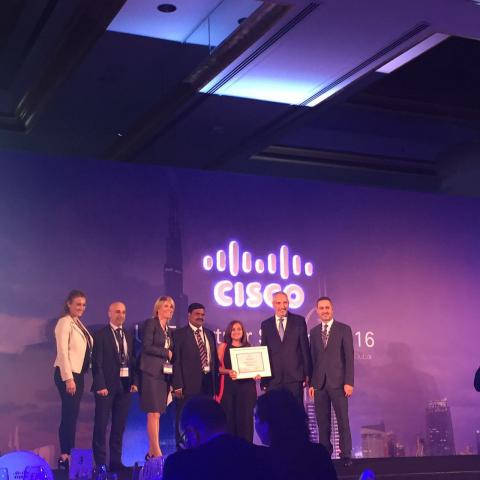 Alpha Data, a Cisco Gold Partner and the UAE's leading systems integrator and one of the longest-standing IT companies in the country, announced that it has been recognized as the UAE Commercial and Marketing Partner of the Year during the Cisco UAE Partner Summit 2016 held at The Ritz – Carlton, Dubai last month. Alpha Data was also honored for being the first UAE Partner to successfully achieve Cisco's 'Big Bet' for achieving remarkable results across all Cisco architectures.
Given to exemplary channel partners, the Cisco UAE Partner Summit awards are designed to recognize best-in-class business practices and serve as a model to the industry within their respective categories. The latest Summit was attended by more than 200 delegates from Cisco's channel partner community and presented 20 awards to outstanding local partners in recognition of their best-in-class business practices, innovation, outcome-focused programs and sales strategies, and exceptional overall performance in 2015 across several categories.
"Alpha Data has proven to be an invaluable and strategic Cisco Partner in the UAE, demonstrating their success by moving quickly, adapting to new opportunities, and driving customer growth," said Bader Hamdan, Strategic Partner Manager, Cisco.  "Our Partner Summit awards recognize the amazing achievements of Alpha Data in growing Cisco's Commercial business and delivering new and impactful Marketing initiatives where Alpha Data continues to be a crucial part of the UAE's growth plans."
As the 'Commercial Partner of the Year' Alpha Data nearly doubled its business through an 83 per cent year-on-year growth in the commercial segment, representing 42 per cent of the total business in addition to achieving over 100 per cent attainment of the 'Big Bet' annual target.  The 'Marketing Partner of the Year' honors Alpha Data for generating over USD 4 million worth of sales-qualified leads in 2015 and making significant joint marketing investments with Cisco to boost brand awareness and demand in events such as Gitex, the IoT World Forum, Cisco Connect, IoTX, and various other high-impact marketing campaigns.
Amar Singh, Director of Sales, Alpha Data, added: "Many of the major systems integration works we have performed have involved advanced Cisco solutions which continue to play key roles in developing and optimizing the UAE's private and public IT infrastructures. It is a privilege to be recognized as one of Cisco's top partners in the region and we look forward to more opportunities for integrating Cisco products innovatively and efficiently across the local and regional markets."
The recognitions from Cisco continue Alpha Data's award-winning streak for 2016. The company was recently named 'Enterprise Reseller of the Year' at the 7th Reseller Middle East Partner Excellence Awards.
Categories