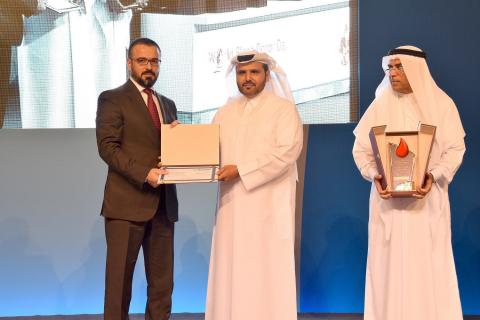 Hamad Medical Corporation event in line with human development pillars of Qatar National Vision 2030
Alfardan Group has recently concluded its successful participation as Gold Sponsors in the 2016 Blood Donors Honoring Ceremony which was held on June 14, 2016 at the Sheraton Grand Doha Resort and Convention Hotel. Organized by the Hamad Medical Corporation (HMC), the annual event aimed to applaud companies and individuals that have expressed their full support for the Corporate Social Responsibility (CSR) programs and initiatives of HMC.
This year's edition, marks Alfardan Group's third sponsorship of the event with HMC. The Group's regular collaborative efforts reflect its steadfast commitment towards promoting awareness on the vital role that blood donations play in helping save lives, as well as on initiatives that will enhance the overall well-being of the community.
Omar Alfardan, President and CEO, Alfardan Group, said: "Corporate Social Responsibility (CSR) is an integral component of Alfardan Group's corporate culture. We have always advocated charitable and philanthropic causes that will positively impact society. The blood donation campaign of Hamad Medical Corporation is one such initiative as it reflects the company's commitment to establish a healthy and sustainable society in line with the vision of H.H. Sheikh Tamim bin Hamad bin Khalifa Al Thani, Emir of Qatar, and the Human Development Pillar of the Qatar National Vision 2030".
The ceremony was held under the patronage of H.E. Dr. Hanan Mohamed Al Kuwari, Minister of Public Health, along with the Blood Donation Center, as part of the series of activities organized for the World Blood Donor Day. The event celebrated the invaluable contribution of the official sponsors who received a certificate and trophy of excellence in recognition of their tireless efforts to help HMC with their blood donation campaign and activities.
Blood donations are greatly needed on a daily basis to address the requirements of trauma victims, as well as individuals suffering from cancer and those undergoing treatment for life-threatening diseases. Just one unit of blood can help save the lives of up to three people. Medical specialists encourage healthy people between the ages of 17 to 25 years old to donate blood as it will not only help save lives but will also help in blood regeneration.
Categories