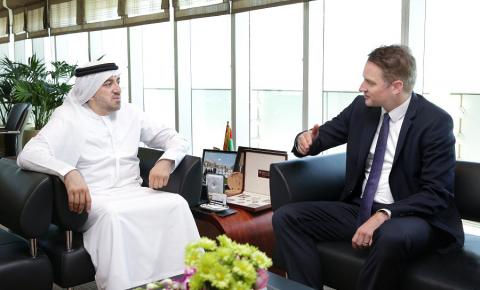 Al Shehhi: 'UAE is Germany's largest trading partner in the region with trade exchange worth USD 15.5 billion in 2015'
H.E. Eng. Mohammed Ahmed Bin Abdul Aziz Al Shehhi, Undersecretary of the Ministry of Economy for Economic Affairs, met in Dubai H.E. Felix Neugart, CEO of the German Emirati Joint Council for Industry & Commerce (AHK). The two sides discussed ways to strengthen the economic relations of their countries and pursue opportunities for the development of partnerships between their business communities.
The Undersecretary stated that the relations between the UAE and the Federal Republic of Germany have grown stronger over the past few years, noting that the UAE has become Germany's largest trading partner in the Arab region, accounting for 25 per cent of the total volume of trade between Arab countries and Germany which stood at EUR 52 billion in 2015. He mentioned that Germany is the sixth largest trading partner of the UAE.
He also stated that foreign non-oil trade between the two countries in 2015 grew by 3 percent from the previous year to reach about USD 15.5 billion.
Al Shehhi noted as well Germany's advanced economic position as the largest economy in Europe and one of the world's most industrialized countries, pointing to its superiority in the fields of science, research and technology. He explained that the keenness of the UAE to diversify the national economy, develop its non-oil sectors and uplift the role of the private sector opens broad prospects for the exchange of experiences and the promotion of investments in several areas. He particularly referred to partnerships in advanced industries, support for small and medium enterprises, encouragement of innovation, and the promotion of investment in tourism, air and sea transport, renewable energy, water desalination, infrastructure, health, and education, among others.
For his part, H.E. Neugart said that Germany and the UAE continue to develop excellent bilateral ties and that the Emirates leads Germany's relations with the Arab region. Neugart praised the economic diversification achieved by the UAE and its ability to continue to grow despite global economic challenges and declining oil prices.
The German Emirati Joint Council for Industry & Commerce (AHK) was founded in 2009 as a quasi-government organization and part of the German Industry & Commerce Office. It operates 130 offices in 90 countries and provides German and Emirati companies a platform for effectively exchanging experiences and building partnerships. AHK also provides information and facilitates network relationships to support cooperative bilateral trade.
Categories