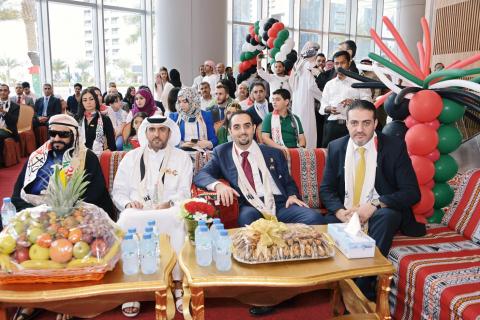 Financial services leader reaffirms support for nation's development vision
December 06, 2014 - Al Ramz Capital, the UAE's leading financial services firm, joined the nation in joyfully celebrating the 43rd UAE National Day through festive events held last December 1, 2014 at the company's Sky Tower headquarters in Al Reem Island, Abu Dhabi.
The day's events included performances of Emirati folksongs and traditional dances, contests, and fun-filled activities for children. Al Ramz commemorates the formation of the UAE each year through meaningful activities that celebrate the nation's past while setting bright visions for the future.
The event was attended by Al Ramz Chairman Mr. Issa Hareb and Managing Director Mr. Mohammad Mortarda Al Dandashi and featured a special appearance by popular Emirati actor Ali al-Tamimi. It was also fully supported by Khidmah and attended by hundreds of people from the Sun and Sky Towers and the surrounding Reem Island communities.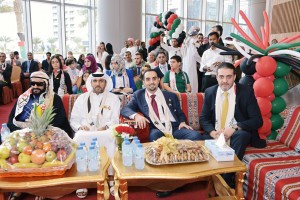 "The UAE, under the wise leadership of H.H. the late Sheikh Zayed Al Nahyan, has made phenomenal strides as a nation despite being less than a century old. Against all odds it has managed to become the region's commercial hub and a model of prosperity and peace as well as an economic force to be reckoned with on an international scale. We are indeed very proud to be part of its march to greatness. Al Ramz Capital eagerly awaits each year's National Day celebrations to express our love, pride and hopes for the UAE and will continue to support the nation's development vision," said Mohammad Mortarda Al Dandashi, Partner and Managing Director, Al Ramz Capital.
Award-winning Al Ramz Capital, a recognized innovator within the Arab financial services community, has more than 16 years of extensive experience and proven excellence in the UAE financial markets. It operates branches in Abu Dhabi, Dubai, Sharjah and Al Ain. Al Ramz is a member of the Abu Dhabi Securities Exchange (ADX) and the Dubai Financial Market (DFM) and also trades in NASDAQ Dubai.
About Al Ramz Capital
Al Ramz Capital, one of the UAE's leading financial institutions that was established in Abu Dhabi in 1998, leverages its in-depth knowledge and expertise in trading securities across its wide range of clients in the UAE. The company is licensed under the Securities and Commodities Authority (SCA) to operate in the Abu Dhabi Securities Market, Dubai Financial Market and Nasdaq Dubai. Backed by a team of highly trained and proficient financial experts, analysts and consultants, the company provides its clients with specialist advice, active support and assistance in smoothly running their financial operations. Operating a network of branches across the UAE, the company is empowered by its vision to be the preferred partner and leading provider of securities trading and financial brokerage services in the MENA region.
Categories