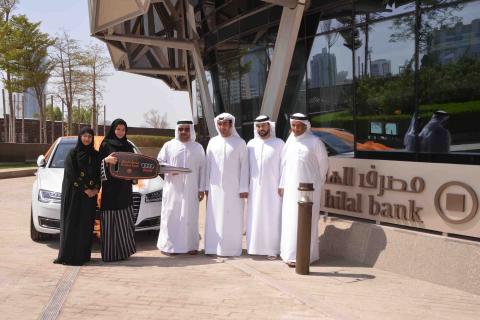 Four more luxury sedans await lucky savers
September 23, 2014
Al Hilal Bank, the progressive Islamic bank, has awarded the second of six 2015 Audi A8 luxury sedans it is giving away under its latest annual Savings Promotion running from July 15, 2014 to January 15, 2015. Saif Majed Saif Salem Al Mansoori personally received the keys to his brand new car from Mariam Ahli, Head of Corporate Communication at Al Hilal Bank, during an awarding ceremony held on Monday, September 22, 2014 at Al Hilal Bank's Al Bahr Towers headquarters in Abu Dhabi.
"Our customers support us in a big way, so we in turn want to reward them in an equally big manner. The Audi 8s we are giving away represent how much we value our patrons. More than a rewards platform, though, our annual savings promo provides strong encouragement for people to save so that they can enjoy great surprises in the end, said, Mohamed Jamil Berro, Group CEO, Al Hilal Bank.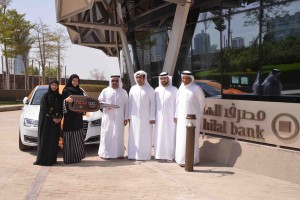 The first sedan under Al Hilal Bank's ongoing savings promotion was handed over in mid-August this year. A maintaining savings account balance of at least AED 5,000 until January 15, 2015 is required to make an Al Hilal Bank customer eligible for the prize.
About Al Hilal Bank:
Al Hilal Bank was established in June 2008 with an authorized capital of AED 4 billion and is fully owned by the Abu Dhabi Investment Council, the investment arm of the Government of Abu Dhabi. The bank is Shariah compliant and operates through a network of 22 branches strategically located across the United Arab Emirates as well as 3 other branches in major cities of Kazakhstan. Al Hilal Bank aims to become the leading financial institution in the region and is committed to increase the growth of Islamic banking by providing new direction, new technologies and special services.
For more information:
Hilal Bank
Email:
myahli@alhilalbank.ae
Categories