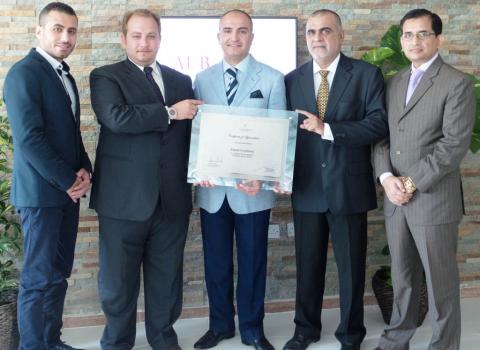 Boutique firm renews partnership with Address Hotels + Resorts
 Collaboration generated over AED 50 million in last six years
November 26, 2014
Al Basel Consultancy, a leading company in the high-end hospitality sector and a member of the Al Basel Group, has announced that it has received a certificate of appreciation for its exemplary services to its high-end guests, the majority of them are suite bookers. The company has been recognized for the lowest cancellation rate along with a dedicated follow up system which has resulted in the least number of 'no shows' from its clients.
The certificate will further bolster Al Basel Consultancy's ongoing partnership with the Address Hotels + Resorts, the five-star premium hotel brand by Dubai-based Emaar Hospitality Group. The company has furthered revealed the renewal of its partnership with the leading hotel group to further promote the hotel's business portfolio in the GCC. The renewal agreement was signed by Seema Pande, Area Director of Sales and Marketing, The Address Hotels + Resorts, and Basel Al Kasem, CEO, Al Basel Group. The partnership is a step forward for the company's expansion and sales campaign targeting VIPs and royalty from the Kingdom of Saudi Arabia, Kuwait and Qatar.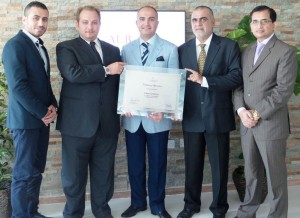 "Al Basel Consultancy was one of the first firms to work with Emaar Hospitality Group. We made sales trips to the GCC to introduce the Address Hotels + Resorts and Armani Hotel to our VIP clients. In the last six years of our partnership, we have generated over AED 50 million in room revenue, extras, banquets, and food and beverage. We are happy for the success of the Address Hotels + Resorts which has grown from three properties in 2009 to six in 2014. With its renewed partnership, Al Basel Consultancy looks forward to further strengthen its relations with the Address Hotels + Resorts and seek more growth. We would like to thank our team along with Emaar Hospitality for a tremendous partnership that has produced outstanding results," said Basel Al Kasem.
Under the terms of the renewed agreement, Al Basel Consultancy will leverage the long-term potential of the Middle East's lucrative hospitality sector to promote the Address Hotel + Resorts' unique services and facilities to high-profile travellers. According to World Tourism Organization (WTO) estimates, different Middle East destinations will welcome 68.5 million tourists by 2020 compared to 46.4 million in 2007, representing a 7.2 per cent growth rate for global travel to the region over the 1995-2019 period. This opens up a host of opportunities for Arab hotels and resorts.
Seema Pande, Area Director of Sales and Marketing, The Address Hotels + Resorts, said: "We were extremely happy with our partnership with Al Basel Consultancy and the renewal of the agreement is an affirmation of our trust in their expertise and competency. The Address Hotels + Resorts offers bespoke solutions to our guests in order to make their stay memorable and extremely enjoyable. In today's highly competitive market, it is important to have a reliable partner and we strongly believe that Al Basel Consultancy understands our goals and can help us reach out to high-profile guests."
In line with its business strategy, Al Basel Consultancy will market the hotel to its VIP and royal customers in the Kingdom of Saudi Arabia, Kuwait and Qatar. All the properties managed by the Address Hotels + Resorts impart a sense of exclusivity and elegance because of their unique designs, premium locations, and unmatched facilities which increase their potential as a luxury hotel chain among discerning travellers.
About the Al Basel Group of Companies
Al Basel Group of Companies is an award winning, leading UAE-based business conglomerate operating across various business interests in the UAE and the Middle East region. The group is composed of Najd Luxury Rent-A-Car, one of the UAE's leading automotive rental providers; Al Basel Real Estate Brokers, a leading boutique real estate brokerage firm known for its high end service and transparency, locally and internationally; Al Basel Consultancy, a leading UAE-based high-end consultancy services provider; Tuwaiq Travel Agency, a newly-created travel agency that aims to address the travel demands and requirements of both local and international tourists; Amani Investments, the investment arm of the group and Kidz Blog Magazine, Dubai's community youth magazine. Al Basel's vibrant standing is attributed to the strong response on the projects they have on offer, which includes offerings from Emaar, Nakheel and Deyaar in areas of Business Bay, Silicon Oasis, Arabian Ranches, Burj Khalifa Down Town and the Palm Island. The group has also carved its niche in providing consultancy services for high-end luxury properties with a diverse portfolio of unique and innovative brokerage services that are collectively aimed at encouraging higher quality and best practices for the country's current line of commercial and residential offerings. 
Categories