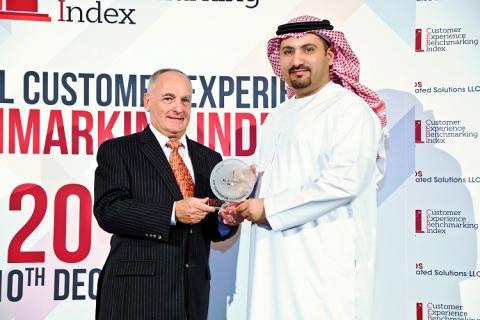 Company honored at Ethos Integrated Solutions' 10th Annual Customer Experience Benchmarking Index
[UAE, December 16, 2014] - Al Ansari Exchange, a UAE-based foreign exchange and worldwide money transfer company, was named the 'Best Telephone Service Exchange House' at the 10th Annual Customer Experience Benchmarking Index' organized by Ethos Integrated Solutions, the leading provider in delivering excellence in customer experience across the Middle East, during an award ceremony held recently at Burj Al Arab in Dubai. Al Ansari Exchange was chosen from among the country's 11 other leading exchange houses.
Rashed Al Ansari, General Manager, Al Ansari Exchange, said: "Al Ansari Exchange has always made special efforts in delivering service excellence to its customers for an enhanced experience. We have a dedicated state-of-the-art call center run by professionally trained multi-lingual staff, which is constantly monitored to help ensure quality and improvement. This recognition demonstrates the exceptional performance of our call center facilities—made even stronger with our team's ability to undertand the needs of our customers, respond and address that need and being able to do it reliably and systematically every time. The fact that the study is based on real customer data makes the award all the more significant. Rest assured we remain steadfast in persuing continuous improvements and enhancements to every aspect of our business to ensure customer satisfaction."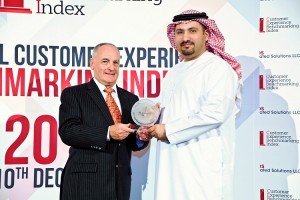 The Customer Experience Benchmarking Index extensively measures and compares the customer experience in banks and Exchange Houses in the gulf region. The focus of the research is on the key areas that customers 'value the most' and encompasses three major delivery channels – Branches, Call Centers, and Websites.
About Al Ansari Exchange
Al Ansari Exchange is one of the leading remittance and foreign exchange service providers in the UAE. Founded in 1966, the company has established its presence through an extensive network of more than 140 conveniently located branches across the country to bring its services closer to its customers.
Al Ansari Exchange has established strategic partnerships with leading banking and financial institutions around the globe to reinforce its commitment to provide key financial services to its growing customer base. The company constantly introduces exclusive offerings and reward schemes for its customers, while maintaining a truly unique banking experience through its wide range of technology-driven financial services that cater to specific customer needs. Al Ansari Exchange employs a highly qualified and professional team of over 2,200 multinational employees, who serve more than 2 million multi-national customers per month in accordance with consistent level of service experience that meets and exceeds customer expectations.
In addition to remittance and foreign exchange services, Al Ansari Exchange also offers a host of other ancillary financial services, including bill payments, credit card encashment, international mobile top-up, investment and saving schemes, loyalty programs, e-exchange, payroll solutions and corporate cash collection services.
Categories