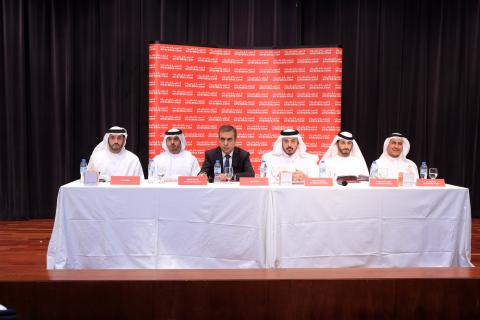 Assembly approves 2015 report of auditors, Board of Directors report and annual accounts
  Air Arabia shareholders today approved the distribution of a nine percent cash dividend for the 2015 financial year at the company's Annual General Meeting (AGM) in Sharjah. The dividend, which is equivalent to 9 fils per share, reflects another year of healthy growth and strong profitability for the Middle East and North Africa's first and largest low-cost airline.
 During the AGM, the assembly approved the report of the company's auditors for the financial year ending December 31, 2015, as well as the balance sheet and profit and loss accounts for the same period. The Board of Directors and auditors of the company were also discharged from liability for the financial year ending December 31, 2015, while auditors for the next fiscal year were appointed and their remuneration fixed. The assembly also granted approval to amend Air Arabia's articles of association in line with Federal Law No 2 of 2015 concerning commercial companies.
"Following another year of solid growth and achievement, Air Arabia is delighted to return profit to our shareholders in the form of a healthy nine percent cash dividend," said Sheikh Abdullah Bin Mohammad Al Thani, Chairman of Air Arabia. "Despite ongoing concerns in the global economy and continued pressure on yields in the aviation industry, with innovation and operational efficiency at the heart of our business, Air Arabia remains well positioned for growth in 2016."
For the full year ending December 31, 2015, Air Arabia reported a net profit of AED 531 million while turnover reached AED 3.8 billion in 2015 with passenger numbers increasing by 12 per cent to more than 7.6 million.
 2015 was a year of significant route expansion with 23 routes added to the Air Arabia network, including the notable achievement of becoming the region's first low-cost airline to enter the Chinese market with the launch of services to the city of Urumqi. The airline also added a fifth international hub with the formation of "Air Arabia Jordan" and the opening of a fixed-based operation at Amman Queen Alia International Airport.
 2015 was also an award-winning year as Air Arabia took home accolades including "World Travel Leaders Award" at the World Travel Market 2015 in the United Kingdom, "Best Low-cost Airline in the Middle East" at the Skytrax World Airline Awards in France, "Best Low-Cost Carrier" at the 2015 World Tourism Forum Awards in Turkey, "Airline of Year" at the Aviation Business Awards, and "Award for Customer Innovation" at the first Aviation Achievement Awards. Data from Google also revealed that Air Arabia was the most searched for airline by UAE users in 2015, reflecting the strength of its online presence and product offering.
Categories