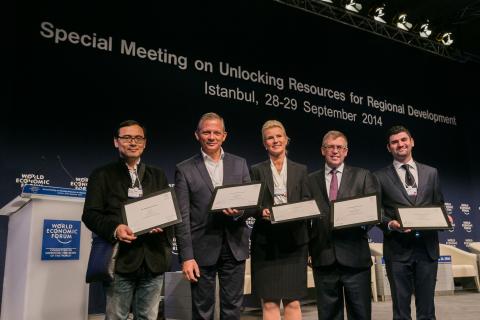 Sharjah, UAE; October 14, 2014: Air Arabia, the Middle East and North Africa's first and largest low-cost carrier, today announced that it has been named among the World Economic Forum's prestigious Global Growth Companies (GGCs) for 2014. Air Arabia joins 27 other GGCs across Europe, Eurasia and the Middle East, representing a broad cross section of industry sectors.
The announcement took place at the recently concluded World Economic Forum Special Meeting on Unlocking Resources for Regional Development held in Istanbul, Turkey. The company was selected for exceeding industry standards in revenue growth, promoting innovative business practices and leadership in corporate citizenship.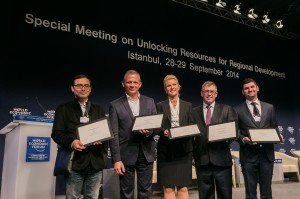 Speaking about the recognition, Adel Ali, Group Chief Executive Officer, Air Arabia, said, "With this distinction, Air Arabia joins an elite group of fast-growing industry leaders. We have always been considered an innovator and pathbreaker in the field of aviation, and it is gratifying to be recognised for our efforts and contribution to the MENA economy. Being a part of the World Economic Forum GGC community provides us an opportunity to leverage our expertise and create meaningful partnerships with industry peers. With a firm focus on sustained and long-term growth, we remain committed to extending our value-for-money philosophy to more destinations and more passengers in the future".
GGCs comprise the most dynamic, high-growth companies from around the world. They are best described as the trailblazers, shapers and innovators committed to improving the state of the world. Currently, GGCs come from more than 65 countries, and are distinguished by their potential to become a leader in the global economy owing to their business models, growth records, leadership and the markets they serve.
David Aikman, Managing Director and Head of the New Champions at the World Economic Forum said: "When choosing entrants to our Community of Global Growth Companies, we assess companies on their business model, annual revenues and growth rates, exclusive leadership and market position. Air Arabia is a dynamic group with clear potential to shape the future in its relevant business sectors and so is a perfect for to our GGC community"
GGCs are nominated from the World Economic Forum's network of media leaders, existing GGCs, Forum Members and Partners, faculty members and the general public. Candidates are evaluated by the Forum and a selection committee composed of regional business experts.
Categories