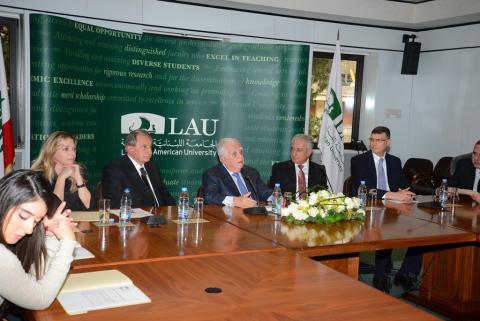 A ceremony took place at the Lebanese American University (LAU) Beirut Campus on Thursday December 4, 2014 to honor the "Adnan Kassar Annual Scholarship" awarded to needy and deserving students at the LAU School of Business for a yearly amount of $ 60.000.
Dr. Joseph Jabbra, President of the Lebanese American University, surrounded by senior LAU Management, welcomed during the ceremony a delegation of Fransabank top executives headed by His Excellency, Dr. Adnan Kassar, Chairman of Fransabank Group. The beneficiary students were present too and expressed their gratitude for the support of the "Adnan Kassar Scholarship" which is allowing them to complete their studies at a prestigious institution as a prelude to a successful career.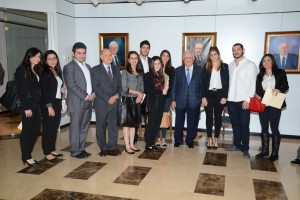 Dr. Jabbra thanked, on behalf of LAU, Dr. Kassar for this important contribution, which is supporting LAU in general, and the Financial Aid Office and the School of Business in particular, by allowing access to top-notch Education for academically outstanding yet financially needy students.
H.E. Dr Kassar thanked LAU as well for being a platform of academic excellence. He added that this annual scholarship is aligned with his vision of supporting both outstanding higher education institutions and needy & deserving students, and that's why it's bound to continue for the coming years. He stressed his believe in the great potential of the Lebanese people and took this opportunity to commend all the Lebanese who have remained in this country to work together and build a solid nation.
The Lebanese American University is a NEASC accredited leading university in the region and allocates around 20 million dollars annually in financial aid to support needy and deserving students.
Fransabank and Chairman Adnan Kassar made of support to Education one of the pillars of their Corporate Responsibility programs in making education accessible to all and in helping those with financial constraints fulfill their dreams one day for having a degree. 14 LAU students benefited from the "Adnan Kassar Annual Scholarship" fund in the last two academic years.
 For Further Information, Kindly Contact
Fransabank Corporate Communications & Advertising Department | Tel: 01-340180 ext. 1817 - 1875
Fax: 01-344251 | Email: marketing@fransabank.com | Website :www.fransabank.com
Categories