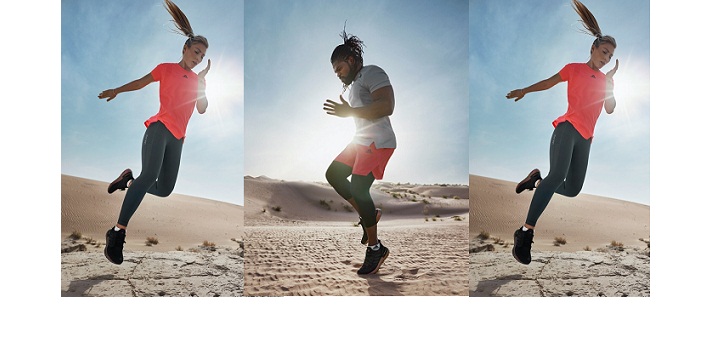 adidas held an action-packed photoshoot in Al Qudra desert to launch their new Heat.RDY collection. adidas athletes: Walid Yari, Peter Barron, Emmanuelle Bonham and Jay Christie starred at Al Qudra wearing the new Heat.RDY clothes which allow you to stay cool in the heat of the action.
Whether they were sprinting, performing superman pushups, or were doing backflips, the adidas superstars not only performed spectacularly, they looked and felt their best in the new adidas Heat.RDY performance apparel.
Heat.RDY is powered by sweat-wicking fabrics that help you stay cool, and intuitive designs that keep the air flowing and keep you moving enabling athletes of all abilities to train outside without the distraction of heat affecting their performance levels.
With temperatures in the region known for reaching a high in the summer, READY technology will be put through the ultimate test as the public are preparing to get outside to train and compete again as the sporting season commences; therefore, adidas' Heat.RDY will be hitting our shelves at the perfect time.
HEAT.RDY - keeps athletes cool in the heat.
The Heat.RDY collection is now available, with prices starting from AED 239, in adidas stores in the Middle East and online at www.adidas.ae
Categories