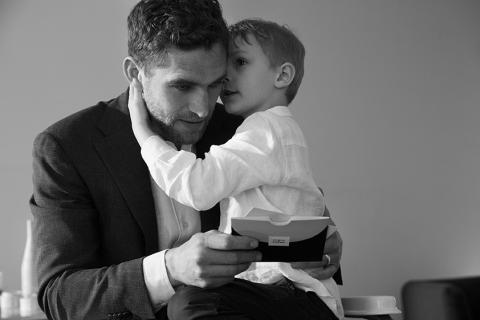 BARBIERE Acqua di Parma is the quintessence of shaving Italian style. It is a modern interpretation of a long tradition. The exciting new formulas are designed for the various stages of the grooming routine: shaving, after shave, beard care and facial treatment. The products combine functionality and sensory pleasure. BARBIERE's signature ory perfume, the fresh light tones of Cologne, is an iconic fragrance of Acqua di Parma's Italian style. The accessories complete the collection: from generation to generation they continue to be the basic tools of a ritual handed down from father to son. Selected Italian craftsmen fashion every single accessory by hand, following techniques handed down over time. It is a pleasure to appreciate the elegant shapes, revised by Acqua di Parma with an ergonomic and essential design.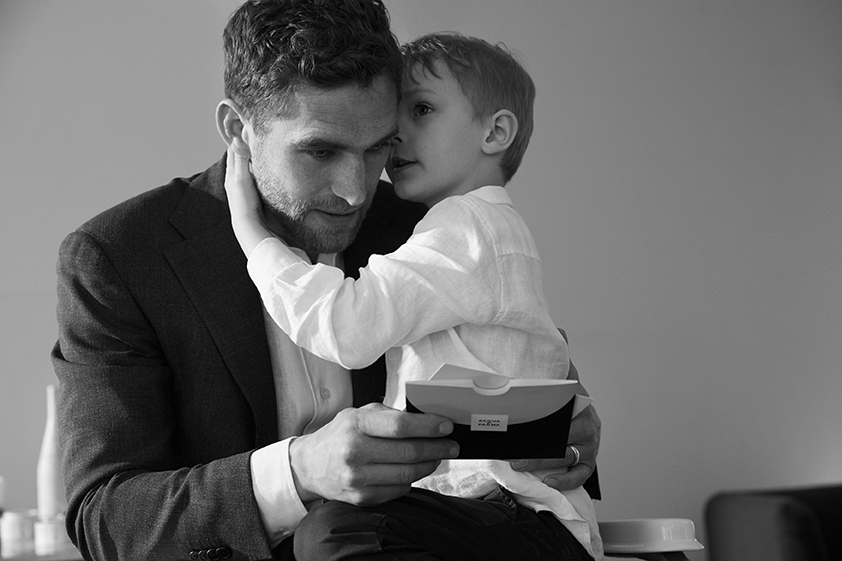 SHAVING SHAVING OIL A refined combination of kind-to-the-skin oils with a rich light consistency that is easily absorbed, formulated with pomegranate oil, lemon oil and extract of basil. It has a dual use, for shaving and pre-shaving. Thanks to its smooth clear texture, it is ideal for a creative and precise shave. Perfect for trimming moustaches, sideburns and goatee beards, it softens the shortest and toughest hairs. It is excellent, when pre-shaving, for application under the soft Shaving cream or Shaving gel, in order to create a light layer that gives maximum skin protection and makes shaving the toughest beards easy. BARBIERE BARBIERE ACQUA DI PARMA NEW FORMULAS TO EXPERIENCE THE RITUAL OF ITALIAN SHAVING SOFT SHAVING CREAM FOR BRUSH A cream with a soft rich consistency that allows the blade to slide easily for a comfortable and close shave. Formulated with pomegranate seed oil, lemon oil and extract of basil and hyaluronic acid, it helps prevent irritation and reddening caused by the razor as it passes over the skin, with an intense hydrating and refreshing action. SOFT SHAVING CREAM The soft rich texture of this cream allows the razor to slide very easily, with a precise and impeccable result. The formula combines pomegranate seed oil, lemon oil, extract of basil and hyaluronic acid to protect the skin from irritation and reddening when the razor passes over it. This harmonious combination provides an effective hydrating and refreshing action. In the practical 75ml travel tube, it can be used with or without a brush. SHAVING GEL A creamy, protective and refreshing gel. Thanks to its functional formula, when it is massaged onto the skin it immediately turns into a rich foam which is ideal for those men who favor a quick but always impeccable shave. Enriched with plant oils which hydrate and protect the skin from irritation and reddening, it leaves the skin pleasantly soft and fresh. BARBIERE AFTER SHAVE REFRESHING AFTER SHAVE EMULSION A smooth, superlight, rapidly-absorbed emulsion, to soothe and hydrate the skin after shaving. The hydrating effect gives immediate relief from razor burns, leaving the skin agreeably refreshed. Hyaluronic acid restores the skin's natural defenses. The formula, offering a matte effect, is enriched with protective and soothing plant oils. As well as the elegant 100ml bottle, a practical 75ml travel tube is available. BEARD CARE BEARD WASH Thanks to the balanced combination of delicate detergents, this shampoo produces a creamy and comfortable foam, which penetrates deep into the beard and can be rinsed very quickly. The SLESS-free formula cleanses gently, leaving a soft fresh skin and a glossy soft silky beard. Available in the 200ml dispenser or in the 75ml tube, ideal for the traveller. BEARD SERUM A new gesture for an even more gratifying ritual. Beard care is complete with this serum which has a pleasing light consistency. Its formula, enriched with sweet almond oil and grapeseed oil, performs a nourishing and untangling action. Use it every day, after a shampoo, for a soft, glossy and healthy beard and for hydrated skin. BARBIERE BEARD STYLING CREAM A cream with a firm flexible texture, formulated to style beard and moustaches with a natural effect. It ensures a medium-strong hold, without leaving any residue. Ideal for enhancing one's own style, it is delicately perfumed with the fresh bright tones of Cologne. FACIAL CARE CLAY FACE MASK A perfect finish to the skin care routine, a mask enriched with natural clay, charcoal, elder oil and lemon oil. Its formula, with high purifying power specifically for male skin, restores light and compactness, offering a matte effect. The smooth glossy black texture solidifies when applied and takes on a clearer tone. Use it once or twice a week, applied in a thin layer, avoiding the application around the eyes, and leave it in place for 10 minutes. To remove it, just rinse with plenty of hot water, then use the facial hydrating cream on the dry skin. PUMICE FACIAL SCRUB A non-foaming emulsion formulated to perform a delicately purifying and exfoliating action. The microgranules of pumice stone remove dead cells, while the combination of high-quality plant oils removes impurities. This scrub effectively minimises imperfections, leaving the skin fresh and vigorous, with a strong feeling of comfort.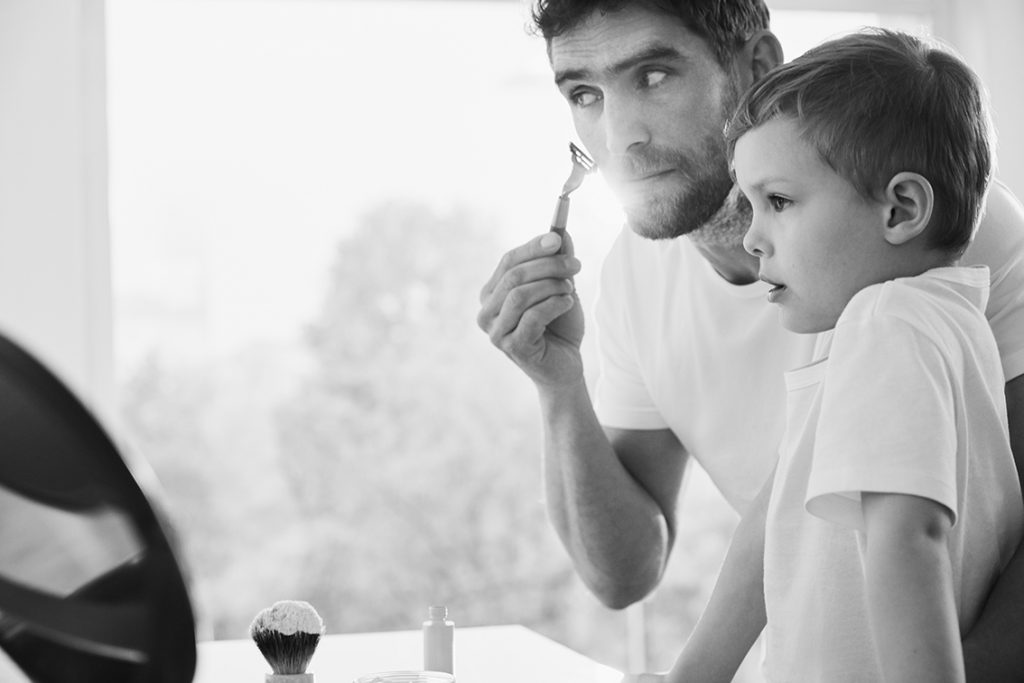 BARBIERE MOISTURIZING FACE CREAM This pleasantly fresh and light formula is quickly absorbed. Designed for male skin, it hydrates over a long-lasting period without leaving the skin heavy, and guarantees a matte effect. Enriched with plant extracts and hyaluronic acid, it helps to minimise fine lines. The skin is visibly softer, with greater tone and a revitalised look. MOISTURIZING EYE CREAM A fresh silky perfume-free formula, specifically for the delicate area around the eyes. Enriched with hyaluronic acid and extract of African birch, it helps reduce signs of expression and fine wrinkles, ensuring a relaxed and rested look round the eyes. The metal roll-on applicator gives a comfortable feeling of freshness in contact with the skin.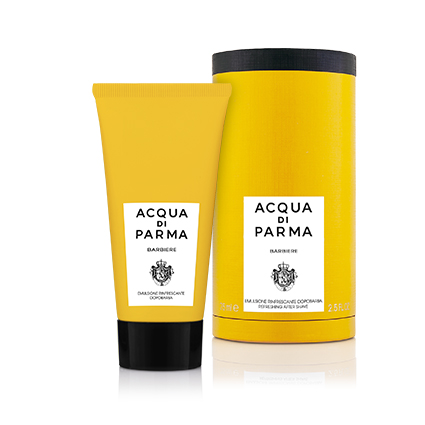 ACCESSORIES SHAVING BRUSH A unique product combining quality, design and functionality. Handmade in Italy, it is balanced in size with a diameter of 24mm to provide complete control and handiness. Its soft compact bristles retain water and make the foam even richer and easier to apply, lifting up the hairs perfectly and helping to reduce ingrowing hairs. The design of the stand and the handle is based on the iconic lines of the Cologne Art Deco bottle. Every time the brush is used, the tuft should be rinsed with running water and wrung out carefully with a clean towel. This product is available in two colours: the elegant black version and a bright Parma yellow one. The bristles are made with ultra-soft synthetic material or badger's hair. BARBIERE The beard brush with synthetic bristles also comes in a sophisticated travel version. In this version, the brush is complete with a practical cylindrical container in which to replace it after having dried it. RAZOR The result of the best Italian craftsmanship, it combines ergonomics and design. The weight distribution at the base of the handle allows a stable grip. The precision of the articulated head, which follows the outline of the face, ensures a perfect shave. The razor is available in two sophisticated colour versions, Parma yellow or black. It can be used with Gillette®Fusion Proglide blades. In order to guarantee the razor's long life, the metal parts must always be dried. NOTE: FUSION PROGLIDE® and GILLETTE® are registered trademarks of the GILLETTE COMPANY. ACQUA DI PARMA and BARBIERE are not registered trademarks of the GILLETTE COMPANY, but belong to different companies which have no relationship of any kind with the GILLETTE COMPANY. STAND DELUXE A special set which includes the beard brush and razor, complete with an elegant stainless-steel stand. The Deluxe Stand's compact and functional shape holds both accessories in elegant harmony. It is the ideal set for a perfect shave. BARBIERE
Categories