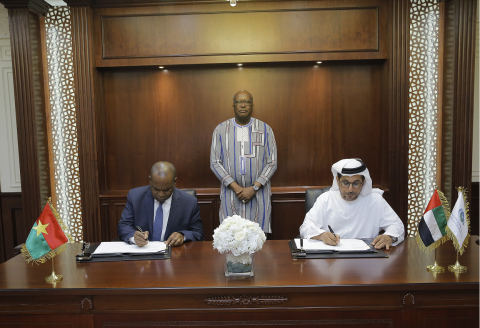 Abu Dhabi Fund for Development (ADFD), the leading national entity for development aid, signed a US$10 million (AED36.7 million) concessionary loan agreement with the Government of Burkina Faso to fund that country's Rural Electrification Project.
In the presence of His Excellency Roch Marc Christian Kaboré, Burkina Faso president, His Excellency Mohammed Saif Al Suwaidi, Director General of ADFD, and His Excellency Alpha Barry, Minister of Foreign Affairs and Cooperation of Burkina Faso signed the loan agreement at the ADFD headquarters in Abu Dhabi. Other senior representatives of the two entities attended the signing ceremony.
The 3.6 MW solar energy venture is part of the third cycle of the IRENA/ADFD Project Facility, a joint undertaking of ADFD and the International Renewable Energy Agency (IRENA) that supports renewable energy projects in developing countries. Expected to supply 42 villages in rural Burkina Faso with mini-grids, grid extensions and solar home system technologies, the project will benefit more than 73,000 people through electricity provision for households, businesses, health and education facilities.
Speaking on the occasion, His Excellency Mohammed Saif Al Suwaidi said: "ADFD's funding mechanisms are designed to foster sustainable growth in key socio-economic sectors that help elevate living standards in developing countries. To deliver on that promise, the Fund views the advancement of renewable energy as a top priority."
He added: "We are proud to work together with the Burkina Faso government to bring the crucial Rural Electrification Project online. Through revolutionising agriculture, this venture will go a long way in supporting the local economy, in addition to generating jobs and improving livelihoods."
For his part, His Excellency Alpha Barry commended ADFD for its role in supporting the national priorities outlined by the Government of Burkina Faso. He added that as a key component of the country's development plans, the project will help the West African country mitigate its dependence on diesel fuel, safeguard the environment through preventing the emission of 2,500 tons of CO2 per year, and provide people with access to electricity.
Since 2012, ADFD has committed US$350 million in concessionary loans over seven annual funding cycles to renewable energy projects recommended by IRENA. To date, the Facility has provided ADFD-funded loans with a total value of US$245 million to 24 projects over six cycles.
It's worth mentioning that ADFD activities in Burkina Faso backdated to 1998, since then ADFD has financed two development projects with a total value of approximately AED53 million, spanning crucial sectors, such as energy, water and agriculture.
Categories