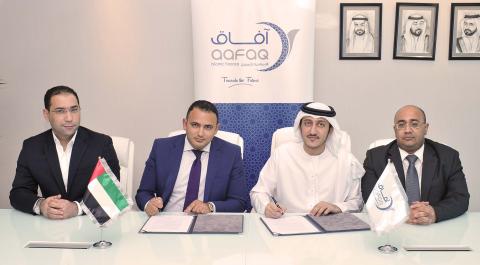 Partnership to provide Sharia'a compliant solutions for shares financings on UAE markets 
August 13, 2014 - aafaq – Islamic Finance Company, a UAE-based leading Shari'a-compliant financial services group and MENACORP, the UAE's leading investment bank, have entered into a strategic partnership  in order to provide investors on the DFM, ADX and Nasdaq Dubai Islamic financing solutions with respect to their trading needs on these UAE markets The agreement was signed between Sheikh Faisal Bin Saud Al Qasimi, Managing Director of aafaq – Islamic Finance Company, and Fathi Ben Grira, CEO of MENACORP. Dr. Mahmoud Abdelaal, CEO, aafaq and Nabil Al Rantisi, MENACORP's Managing Director-Brokerage, also attended and witnessed the signing ceremony. In line with strategic growth plans of both companies, the alliance will provide the customers with diversified services by offering them an opportunity to enter the UAE's finance and trading market.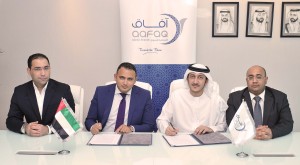 "aafaq is delighted to sign this partnership with MENACORP, as evident by the stable economic growth of the UAE, which can be accredited to the wise vision in leadership in addition to the existence of diverse and unique investment opportunities, especially in the financial market and in what these markets have recently envisioned to get upgraded to emerging markets. This strategic alliance falls in line with our expansion strategies and will offer cutting-edge Islamic finance products and services so that customers can take advantage of the UAE's thriving stock market. We are looking forward to working closely with MENACORP to offer Shari'a-compliant solutions to our customers," concluded Sheikh Faisal Bin Saud Al Qasimi, Managing Director of aafaq – Islamic Finance Company. 
Fathi Ben Grira, CEO, MENACORP, said: "Most of our clients are GCC based investors who are attached to the principles edicted by Sharia'a law for their financing requirements. The total value of our clients' portfolio recently crossed 8.5 billion AED and most of it is controlled by investors valuing the ethic of Islamic finance, especially for their transactions on the stock market. Our partnership with aafaq – Islamic Finance Company will help us to serve these clients in accordance with their values. This deal is an important milestone for MENACORP as it is in line with our strategy which is to focus on our core business (execution on stock markets) and to rely on a leader such as aafaq – Islamic Finance Company for the financing needs of our clients." 
About aafaq
Aafaq – Islamic Finance Company, licensed and regulated by the Central Bank of UAE, is a private joint stock company with a paid-up capital of AED 150 million. The company provides a wide range of Islamic finance products and services which are approved by Aafaq Shari'a Board.  It offers financial solutions for corporate and retail segments along with other services such as Wages Protection System and Labour Guarantee Issuance. Aafaq is one of the leading companies in providing government services and is also a member in many prominent regional and international banking and financial organizations.
About MENACORP:
MENACORP is an Abu Dhabi –based award-winning investment bank authorized and regulated by the UAE's Securities and Commodities Authority and the Dubai Financial Services Authority. Its extensive expertise covers financial advisory, brokerage, asset management and financial research provided across the Middle East and North Africa (MENA) region. MENACORP is backed by one of the largest and most diversified Emirati conglomerates, the Bin Hamoodah Group – the company's main shareholder.
Categories