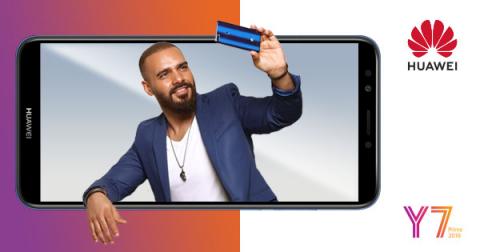 Huawei Y7 Prime 2018 offers Stunning photography
and great technology at an affordable price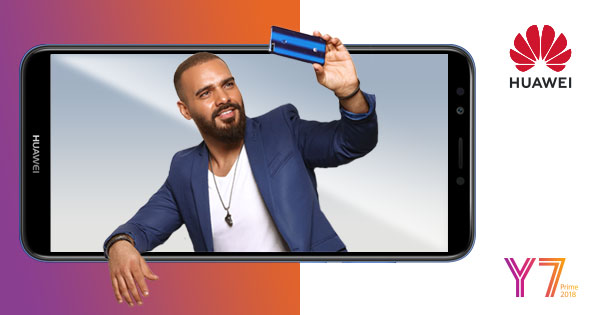 Huawei consumer business group announced the arrival of Huawei Y7 Prime 2018 to the Lebanese market. The Huawei Y7 Prime 2018 features 3GB + 32 GB, 5.99" FullView Display, quality dual camera and long battery life in addition to its excellent performance thanks to the Android 8.0 system and EMUI 8.0 interface. Targeting mostly the youth, the device is available in Blue, Gold & Black colors and will be retailing at $185 in all dealer stores across the country.
As smartphones are by far the most important device in young people's lives with the technology they rely on to complete their daily tasks, whereas they spend over 4 hours online shopping, reading, browsing social media pages. Making part of the affordable Y range, the new Huawei Y7 Prime 2018 is captivating the hearts of young consumers' with its advanced technology and amazing camera features setting itself as the ideal companion for today's tech-savvy generation.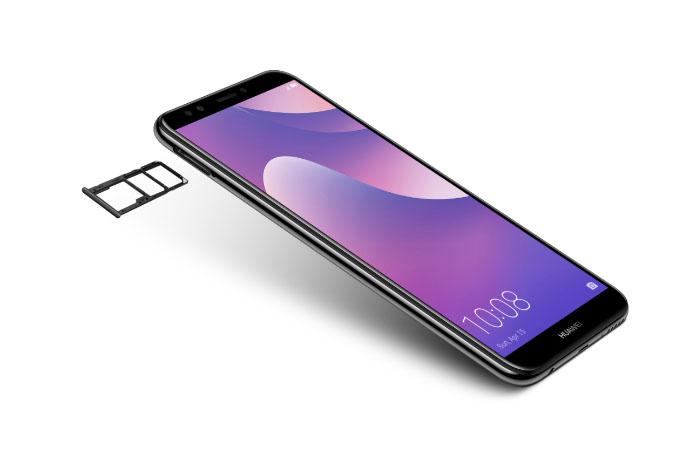 The Huawei Y7 Prime 2018 is designed for users to see the world in full with the amazing FullView display that delivers a remarkable viewing experience. Whether to watch movies, play games, read books or magazines, or check social media, the Huawei Y7 Prime 2018 display will make users enjoy this experience. Designed with an 18:9 display ratio, it allows a 12.5% wider view while offering the best gaming, entertainment and multi-tasking experience.
Packed with 3 cameras, 1 at the front (8MP) and 2 (13MP and 2MP) at the back, the Hauwei Y7 Prime 2018, captures breathtaking pictures. The toning flash is designed to capture amazing selfies: even with zero makeup on, faces will look naturally glowing in the pictures! And because pictures don't have to be boring, the AR lens features will add a more creative and fun experience to the snaps.
With sleek, fashionable design and immersive, large screens, the new HUAWEI Y7 Prime 2018 sets itself apart from the competition by delivering a first-class appearance and equally quality viewing experience – both in terms of productivity and gaming. 
The Huawei Y7 Prime 2018 runs on the Android 8.0-based EMUI 8.0 that supports great technology features to offer a seamless experience and make life easier. The smartphone also offers cool, fun features that include group music, karaoke mode, Face Unlock, smart split-screen, eye comfort, navigation dock, mini screen view and more.
Gone are the days when the battery dies on you. Since Huawei Y7 Prime 2018 offers long battery life to support usage, even if some apps are power-draining. Users can play intensive games, watch movies, and listen to music tracks knowing that the smartphone packs a smart power management solution to save battery and deliver an outstanding performance.
In this context, the brand collaborated with the Lebanese star Joseph Attieh, who fell in love with the device and its advanced photography features.  The Lebanese Star is excited to use the new Huawei Y7 Prime 2018 while on tour.
About HUAWEI Consumer Business Group (CBG) 
HUAWEI Consumer Business Group (CBG) is one of HUAWEI's three business groups, providing a range of products including mobile phones, wearables, tablets and laptops. HUAWEI's products and services are available in more than 170 countries, and are used by a third of the world's population, ranking third in the world in mobile phone shipments in 2016.
Year on year growth was reflected in HUAWEI's rise as a globally recognized premium brand. In 2017, HUAWEI was named number 49 on BrandZ's Top 100 Most Valuable Global Brands, number 88 in Forbes World's Most Valuable Brands and number 40 on the Brand Finance Global 500 Most Valuable Brands lists. In this year's Fortune 500 HUAWEI climbed up the list to the 83rd place from the 129th of last year with a revenue of $78.51 billion, making the top global 100 for the first time.
As a leading technology company, HUAWEI invests a significant amount of its annual sales revenue to research and development efforts, and has established 16 research centers around the world. Among these facilities is the HUAWEI Aesthetics Research Center in Paris. HUAWEI's newest R&D center is the Max Berek Innovation Lab in Wetzler, Germany, where HUAWEI and Leica are jointly researching technologies to improve mobile device camera and image quality.
For regular updates on Huawei Consumer BG, visit our website: http://consumer.huawei.com/levant/
Or follow us on:
Facebook: https://www.facebook.com/HuaweiMobileLebanon/
YouTube: https://www.youtube.com/channel/UCMSitkq5rRBRIvzb8kgHupg
Categories