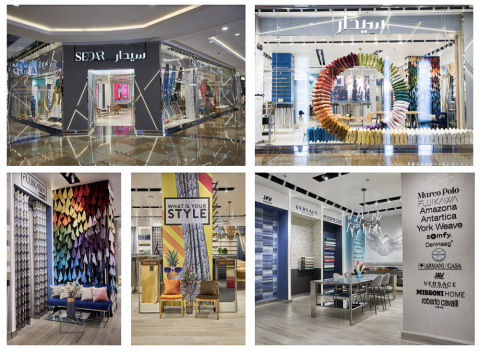 Wall covering and window interior specialist for over 125 years, Sedar Global opens two new locations this summer at Dubai Festival City and Dubai Festival Plaza. The first retail stores the thriving brand has operated within a shopping mall, this positive move comes after a record spend on home furnishings since the start of the pandemic in March 2020 last year. 
Having launched their e-commerce site in February 2020, just before the first worldwide COVID outbreak, Sedar were able to cater to a significant change in consumer behaviour in  shopping over the past 12 months. The brand saw a 33% increase in their Whatsapp chat service, which offered a more interactive and visually engaging platform for Sedar customers to purchase products from home. Bringing this demand for autonomy into the new retail stores, interactive screens give visitors the freedom to fully customize and purchase curtains as well as wallpaper, blinds, pillows and folding doors.  
Located on the ground floor at Dubai Festival City which overlooks the stunning waterfront, the 290sqm Sedar Dubai Festival City store has opened its doors and will be followed this summer by the slightly larger Sedar Festival Plaza store, occupying 1455sqm. Bringing the number of outposts to 25, across 8 countries in the GCC, MENA regions and Canada, shoppers will have access to unique design options including the recently added Roberto Cavalli Home available to shop at Sedar for the first time this year. Tapping into an array of key trends for 2021 and enriching a space with striking prints in a combination of nature, graphic and textured wall designs, Roberto Cavalli Home includes animal print, botanical scene wallpapers signifying that exotic adventures are moving indoors and 3D effect styles giving a nod to Cavalli's classic chain foulard print. 
The two new retail stores will also showcase stunning SS21 collections from Sedar's favourite house brands Fujikawa and Marco Polo; as well as internationally renowned brands Missoni Homes, The Versace Home, Armani/Casa, Swarvoski, Somfy and Jannelli & Volpi. While interiors continue on themes for 2020 based around nature, texture and softness, homes in 2021 are set to make an impact, with futuristic styles and sustainable techniques. Another key trend for this year, will see homeowners continue to find ways to bring their holidays into their living spaces while travel remains limited for most, this is reflected in an increase of over 300% in Google searches for panoramic or mural living room wallpaper ideas over the past 12 months. 
Having spent much of 2020 monitoring consumer trends and customer habits closely, Nahel Selo Creative Director at Sedar noted a number of significant findings, which helped to inform Sedar Global's 2021 strategy and shaped the design set up of the new Dubai retail stores. 
Selo comments: "People didn't know what to expect in the first wave of the pandemic so were holding off investing in home improvements but as they began accept working from home as the new normal, we started noticing a 30% increase in sales by September 2020. In addition, we saw an increase in revenue for folding doors because our customers needed their privacy during lock down to create their own offices and personal spaces."
He adds, "As we gradually step out of the shadow of the pandemic, our focus will be on bringing in non porous and easy to clean products such as PVC, faux wood and aluminium to meet a heightened market demand for cleanliness. We will also introduce a new Japanese anti-germ formula called PALCCOAT, which prevents mould, bacteria and viruses from forming and causing any dirt or decay. This is a game changer for commercial spaces, which usually require regular cleaning and disinfecting. Finally, we are thrilled to be opening our first in-mall stores ever at Dubai Festival City and Dubai Festival Plaza which will allow us to be closer to our customers in the city's prime residential areas and to enable a more fluid journey from furniture shopping to home furnishings." 
The new Dubai Festival City store is located on the ground floor of the waterfront store 101 and Dubai Festival Plaza will be located before close of summer 2021 on the ground floor store SU 149. Shop Sedar Global's new collections in stores now or from the comfort of your home at www.sedarglobal.com. For more information contact Sedar Global on +971 6 533 225