Leading ICT company recognized as a dynamic group with clear potential to shape the future
Dubai - November 03, 2014: The World Economic Forum (WEF), an independent international organization committed to improving the state of the world by engaging business, political, academic, and other leaders of society to shape global, regional, and industry agendas, has selected the National Technology Group (NTG), one of the world's largest and fastest growing Information & Communication Technology (ICT) companies, to be part of this year's World Global Growth Companies, a prestigious list of the most dynamic, high-growth companies from around the world. The announcement was made after the WEF's completion of a strict and comprehensive assessment on thousands of candidates according to different criteria. Companies named into this list are best described as the trailblazers, shapers and innovators that are committed to improving the state of the world.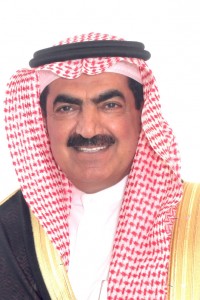 David Aikman, Managing Director and Head of the New Champions, WEF, said, "When choosing entrants to our Community of Global Growth Companies, we assess companies on their business model, annual revenues and growth rates, executive leadership and market position. National Technology Group (NTG) of Saudi is a dynamic group with clear potential to shape the future in its relevant business sectors and so is a perfect fit to our GGC community."

NTG received its Global Growth Companies certificate during a ceremony honoring the 28 new companies, which was held earlier, on the sidelines of the WEF's 'Special Meeting on Unlocking Resources for Regional Development.' Receiving the award for NTG was its Chairman, Engineer Mohamed Rashid AlBallaa. The awarding ceremony was attended by over 500  delegates from global large companies as part of the WEF special meeting that was also graced by H.E. Recep Tayyip Erdogan, the President of Turkey.
Engineer Mohamed Rashid AlBallaa said, "This recognition came as a result of the great effort made by our team over the last 30 years and the growth achieved by NTG companies like Arabic Computer Systems (ACS), Ebttikar, Mubasher, DirectFN, N2V, AIM, AGCN, FCGI, and their business units and subsidiaries. This does not mean that we have achieved our goals and our ambitions in the group as our vision does not stop here--we are honored but still consider ourselves still at the beginning of our growth journey. We are excited to join this great community of global leaders and will strive to represent the Saudi and Arab Information Technology society in WEF and benefit from other member's experience and best practices in ICT and transfer them to our region."
The NTG Chairman pointed out that Saudi Arabia's IT industry exceeds by SAR 50 billion annually, with an annual growth rate of 10 per cent. In line with this, he added that IT is one of the main drivers of economic growth today and a main component in the shift towards becoming a knowledge-based economy.
"Being the largest Information Technology Group in Saudi Arabia and the rest of the region, NTG is steadfast in its continued commitment to do its best efforts in introducing and implementing cutting edge technologies, which in turn will help empower our economies to grow at a faster and stronger pace," concluded AlBallaa.
The World Economic Forum is best known for its annual winter meeting in Davos, which brings together some 2,500 top business leaders, international political leaders, selected intellectuals, and journalists, for a winter meeting, to discuss the most pressing issues facing the world, including health and the environment. Being a membership-based organization, WEF members comprise 1,000 of the world's top corporations, global enterprises usually with more than USD 5 billion in turnover. These enterprises rank among the top companies within their industry and play a leading role in shaping the future of their industry and region, and are actively engaged in the forum activities that aim to improving the state of the world.
NTG was established in 1984 in Riyadh, Kingdom of Saudi Arabia (KSA) and is one of country's fastest growing and largest Information & communication Technology (ICT) companies with over SAR 2 Billion in revenues and 3500+ employees. NTG comprises of more than 20 specialized ICT subsidiaries in Saudi Arabia, GCC, Egypt, Jordan, Pakistan, Sri Lanka, and Turkey. Since its inception, NTG has striven to satisfy the complete Information Technology needs of customers in the region by providing state-of-the-art products and services.
Categories