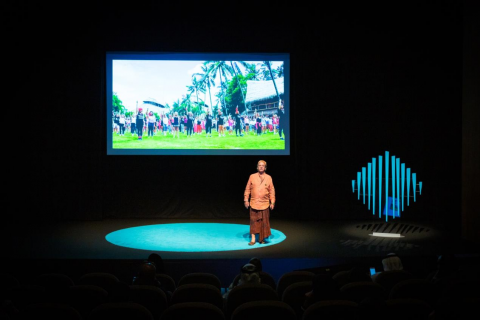 In Bali, a school built entirely from bamboo in a cleared patch of jungle is creating a generation of young people who attend UN climate conferences, start fashion companies to help Indian children buy school uniforms, and lobby the Balinese government to reduce the usage of plastic bags on the island. 
Halfway across the world, in Paris, a non-profit school without a single teacher, a curriculum or formal qualification is cultivating students who establish their own startups or find well-paying jobs.
These are among the alternative educational models presented as part of the Future of Education stream at the seventh World Government Summit (WGS 2019) in Dubai to a group of educators and stakeholders from around the world.
The Green School in Bali is the brainchild of John and Cynthia Hardy, former jewelry designers and longtime Bali residents whose lives were transformed by watching the 2006 American documentary 'An Inconvenient Truth'. Inspired by its message, both set out to create a future generation of green leaders in a setting that defies every convention of traditional schooling. 
"Green School is a school like no other. It has no walls, and the children are happy. This provides an incredible environment for growth," said John Hardy, addressing the delegates at WGS in a sarong and sandals. "We thought it would take generations for our green leaders to manifest. We were wrong. Giving children freedom from boundaries teaches them to solve problems and think critically in ways we had never imagined possible."
Nicolas Sadirac co-founded Ecole 42 in Paris as a short-term program specifically for poor children and school dropouts. A computer programmer and hacker, he doesn't have a day's training in education. But he has shaped a model where 4,000 children work peacefully in a building with no supervision, creating what he calls 'collective intelligence' by working together to find solutions.
"Learning by rote is dangerous and makes you stupid. Information is freely available on the internet. What we need in today's world is the ability to create new stuff out of this knowledge by working together," said Sadirac. "It's all about creating a safe place, and then providing an environment of trust. It helps to gamify the experience to make it fun. Then you step aside and watch the kids flourish."
In the final session of the day, Dr Shefali Tsabary, a clinical psychologist and expert in eastern philosophy, talked about how to raise brilliant children. Offering a clue, she said: "You are going to have to change your old thinking. In fact, conformity is the number one killer of creativity."
"The only way to transform your relationship with your child is to build a deep and empowered connection. This requires a new perspective and way of engaging but is imperative if we are to allow our children to be the best version of themselves rather than mirror images of our failed selves," she noted.
The three-day World Government Summit 2019 runs until February 12 at Madinat Jumeirah in Dubai. The landmark event has convened more than 4,000 participants from 140 countries, including heads of state and governments, as well as top-tier representatives of 30 international organizations.
Categories