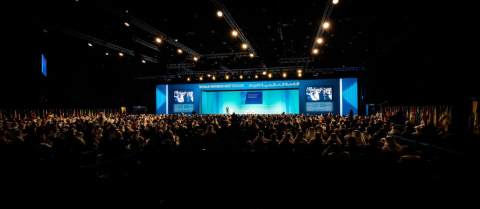 The immunization and control of 'super-spreaders' within global networks were highlighted today at the seventh World Government Summit (WGS 2019) in Dubai as an effective way for governments to combat threats such as extremism.
At today's plenary session 'How Governments Can Harness the Science of Synchronized Randomness', Steven Strogatz, Professor of Applied Mathematics at Cornell University, outlined how threats can spread through human communication within individual personal networks. He suggested that identifying the highest-connected 'super-spreaders' – who infect more widely than a typical infection - could help governments prevent the spread of threats.
Professor Strogatz said: "Human nature tends to institute order – societies are built on the premise that people working together work better in harmony. Governments can benefit from the strength of unified movements towards the overall betterment of society. However, the 'vaccination' of the friends of random people within networks could be applied effectively as a way of controlling the spread of negative threats or issues."
The session aimed to break down the 'why' behind synchronized behavior and explore how governments and society can benefit from the randomness in people's actions. This included the ability to control the exact 'phase transition' period of group behavior, which can act as a catalyst to drastically change the actions of a large group of people.
Professor Strogatz also examined the issue of segregation within society. Referring to Thomas Schelling's model of racial segregation, he noted that many people are perfectly content with living in a mixed neighborhood.
However, he pointed out that the tipping point comes if a group of people perceive themselves as a minority, which can then lead to damaging segregation issues and he concluded that although people like some diversity, they do not want to be in the minority.
The three-day World Government Summit 2019 runs until February 12 at Madinat Jumeirah in Dubai. The landmark event has convened more than 4,000 participants from 140 countries, including heads of state and governments, as well as top-tier representatives of 30 international organizations.
Categories