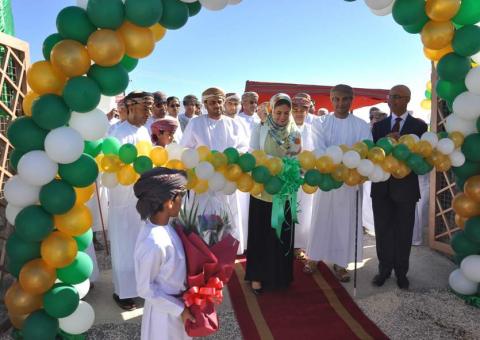 18 January 2015, Muscat:
The View – a one-of-a-kind holiday retreat tucked away in the rugged highlands of Al Dakhiliya Governorate – has reopened for business after an extensive makeover that has accentuated its resort-like ambience. Following an eight-month-long refurbishment, The View has been transformed into a charming mountain retreat that, while retaining the appeal of an eco-luxe retreat, now boasts all of the amenities of a high-end holiday destination.   This was officially reopened under the auspices of H.E. Maitha bint Saif Al-Mahrouqi, Under Secretary, Ministry of Tourism Oman on the 15
th
of January 2015.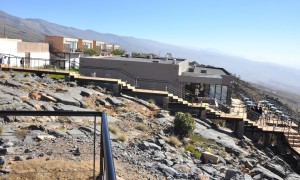 The delightful getaway, nestled on the summit of Hail al Shas in the Wilayat of Hamra, has long been popular with international tourists, as well as weekenders from Muscat as it is just two and a half hours drive. Its location, 1400 metres above sea level, not only affords its guests spectacular views of the surrounding natural grandeur characterised by soaring mountain massifs and plunging canyons, but it also serves as a convenient base from which to explore some of Oman's most exciting natural and historical attractions across nearby Al Hamra, Bahla, Nizwa and Jabrin. The average temperature between 15 – 20 degrees is an added attraction for tourists. The 15 tented structures that served as lodgings in the past have been replaced by stylish pods – 30 in all – each tastefully appointed and fitted out to provide guests with a high degree of comfort and convenience. King-size bed, LCD TV and stand alone bathtub are part of an array of modern amenities that await customers at this comprehensively upgraded property. Furthermore, the pods have been designed and thoughtfully laid out to ensure magnificent canyon-facing views to all 30 lodgings, in contrast to only seven of the 15 tented lodges before the overhaul. This has been possible due to a significant expansion of area that now covers 12,000 square metres. What adds to the beauty and the amazing view are the rocky settings that have been left untouched and go a long way to enhance The View's appeal as a mountain retreat. "Thanks to the extensive revamp, The View is more than just an accommodation with dramatic panoramas of Al Hamra's rugged grandeur.  It's an oasis that offers reposeful tranquillity on one hand, and a comfortable base on the other – for the visitor to explore some of northern Oman's finest natural and historical monuments. Indeed, The View is like no other holiday haven that Oman has to offer," remarked Abdulmunim Al Zawawi, Chairman of The Zahara Group. As a self-contained sanctuary set in the lap of nature, The View also offers its guests the opportunity of a restful holiday far removed from the hurly-burly of urban life.  Customers can relax by the temperature-controlled infinity-edge swimming pool with that offers a breathtaking view, or enjoy glorious sunsets by the Sunset Lounge. Charming walkways also connect the pods to the property's popular multi-cuisine restaurant that can cater to more than 40 guests at a time. As the terrace is close to the canyon, the bird's eye view of the surrounding area is incredible at all times; more so during sun rise and sun set. For corporates, a fully equipped multipurpose conference hall allows for business executives to combine a relaxing holiday with opportunities for some serious brainstorming as well. For the more energetic at heart, there are options for mountain biking, hiking, rock climbing and so on.
Categories